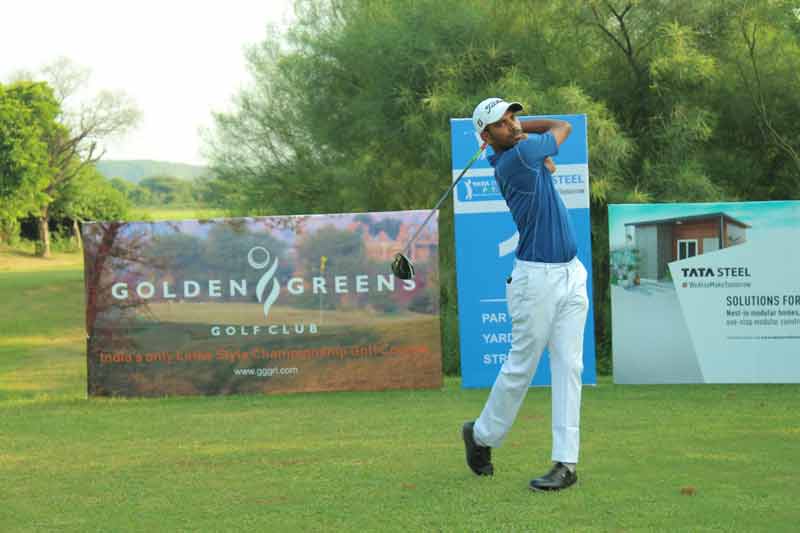 Gurugram: Gurugram-based Shivendra Singh Sisodia, playing at his home course, came up with a five-under-67 to move into the second round lead at six-under-138 at the TATA Steel PGTI Feeder Tour 2019 Presented by Golden Greens Golf Club being played in Gurugram.
Teenaged rookie Karan Pratap Singh, who also hails from Gurugram, produced a 68 to be placed second at five-under-139.
The cut came down at four-over-148. Thirty-six professionals made the cut.
The 30-year-old Shivendra Singh Sisodia (71-67), a former winner on the Feeder Tour, hit his approach shots with pinpoint precision through the day. He secured an early eagle on the 11th where he landed his approach within three feet of the pin. Sisodia then set up a five foot birdie conversion on the par-3 12th followed by a 10-footer on the par-4 14th.
Shivendra continued the good work on the front-nine with a birdie chip-in from 22 yards on the first despite an erratic drive. He was also just one roll short of his second eagle of the day on the fifth where he settled for a birdie. Sisodia's only setback came on the closing ninth where he dropped a bogey after losing his ball as a result of a poor tee shot.
Shivendra said, "I did really well with my approach shots and wedges today. It's my home course, so I knew that even after a slow start in the first round I'll be able to make up lost ground on day two. I've not performed up to my expectations so far this year as I've not been finishing well in tournaments. I've been posting high scores on the last two days. That's something that I've been working on. So hopefully, I can turn it around in the last round tomorrow."
Nineteen-year-old Karan Pratap Singh (71-68) made some good up and downs thanks to his excellent wedge-play to propel himself into contention, one shot behind the leader.
Kapurthala's Ashbeer Saini (69) and Greater Noida's Arjun Sharma (68) occupied joint third place at four-under-140.
Feeder Tour Order of Merit leader Anil Bajrang Mane (69) of Mumbai was in tied fifth at three-under-141 along with Chandigarh's Rohan Kathuria (68).
Round one leader Kushal Singh of Gurugram slipped to tied seventh at two-under-142 after his second round of 74.
Digvijay Singh (74), also playing at his home course, ended the day in tied 18th at one-over-145.
Gurugram's Md Ezzaz fired a hole-in-one on the eighth during his round of 73. However, he totaled seven-over-151 to miss the cut by three shots.