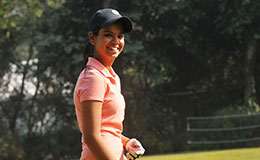 Gurugram: Diksha Dagar, the lone Indian to have won on the Ladies European Tour this year, and Vani Kapoor will return to make only their second appearance on the domestic Hero Women's Pro Golf Tour in 2019. All the top Indian stars hope to get a feel of the DLF Golf and Country Club's layout this week.
This will be their final chance to get a look at the Gary Player's Black Knight course before the Hero Women's Indian Open in the first week of October.
The US $ 500,000 will mark its 10th anniversary on the LET and the 13th edition overall when it is held from October 3 to 6, 2019.
Diksha, who won the Women's South African Open and then played as many events as possible on LET, including two Majors, for which she qualified as a winner, has not played this season on the Hero WPGT. Diksha played the opening leg of the Tour and finished third before proceeding to play outside India.
Also returning for the event is Vani Kapoor, who despite finishing second picked the winner's cheque in the 11th Leg at the Hyderabad Golf Club, as amateur Sneha Singh emerged winner.
Other hopefuls this week will include three-time winner on the Hero WPG Tour Ridhima Dilawari, who was T-20 last year at HWIO 2018 and two-time domestic winners Gaurika Bishnoi and Tvesa Malik, who were also the only Indians in Top-15 at HWIO last year.
Other Tour winners who will be seen in action are Amandeep Drall, Neha Tripathi, Gursimar Badwal and Gauri Karhade, the latest teen to win a title on the home Tour.
The field for this week's 13th leg also includes four amateurs, Asmitha Sathish, Khushi Hooda, Sneha Sharan and Jahanvi Bakshi.
Tee times for Round 1, Leg 13 at the DLF Golf and Country Club:
8:30 AM: Amandeep Drall, Asmitha Sathish (A), Gaurika Bishnoi;
8:40 AM: Tvesa Malik, Diksha Dagar, Suchitra Ramesh;
8:50 AM: Khushi Hooda (A), Gurjot Badwal, Khushi Khanijau;
9:00 AM: Shriya Vivek, Gauri Karhade, Ananya Datar;
9:10 AM: Vani Kapoor, Afshan Fatima, Sneha Sharan (A);
9:20 AM: Jahanvi Bakshi (A), Gursimar Badwal, Neha Tripathi;
9:30 AM: Ishvari Prasanna, Oviya Reddi, Siddhi Kapoor;
9:40 AM: Anousha Tripathi, Ridhima Dilawari, Tanirika Singh;