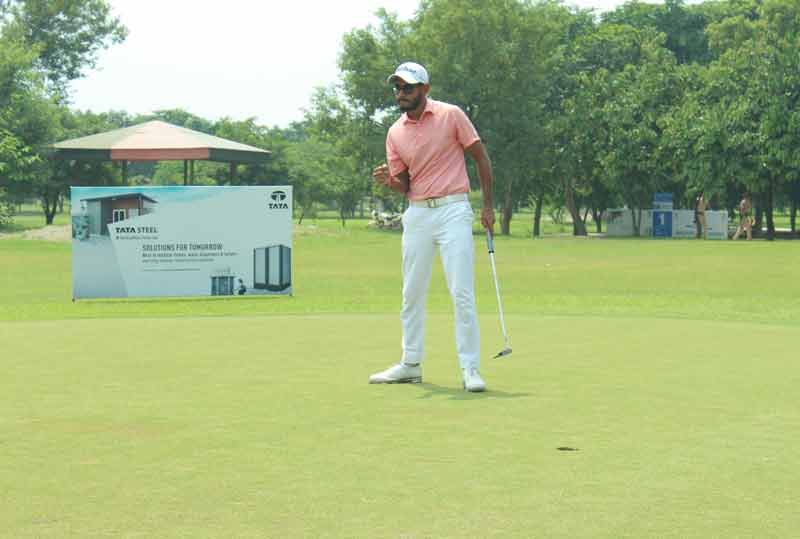 Karnal: Chandigarh-based rookie Yuvraj Singh Sandhu registered his maiden professional win in style at the TATA Steel PGTI Feeder Tour 2019 Presented by Madhuban Meadows played in Karnal.
The 22-year-old Yuvraj (57-60-55), the overnight leader by two shots, dominated the final round with a blazing seven-under-55, the tournament's best score, to end up the victor with a thumping seven-shot margin at 14-under-172. Sandhu's success in the third event of the Feeder Tour season at the Madhuban Meadows Golf Course has now lifted him from 10th to second place in the 2019 TATA Steel PGTI Feeder Tour Order of Merit.
Gurugram's Kushal Singh (58-63-58) came up with a last round of four-under-58 to take the runner-up spot in Karnal. His total for the week read seven-under-179.
As a result of heavy rain one day prior to the event, the 14th and 15th holes at the Madhuban Meadows Golf Course, both par-4s, have been rendered unplayable for the whole tournament, thus all three rounds will feature 16 holes each with the par for the course being 62.
Yuvraj Singh Sandhu, who had a relatively better day with the putter as compared to round two, began the day on a promising note with an eagle on the par-5 second hole where his six-iron approach landed six feet from the flag. Yuvraj soon gained another stroke on the par-4 sixth where he drove the green.
Sandhu's accurate ball-striking then opened up a big lead for him as he birdied the ninth, 10th and 11th to all but seal the title. The man with three top-20s to his credit on the PGTI's main tour this year finally extracted another birdie on the 16th where he got out of trouble with a brilliant flop shot over the trees.
Yuvraj said, "I'm delighted to have won my first professional title. This win opens up a lot of doors for me. I know I can now take my game to a higher level and be more competitive. If I can contend in every event from here on, it will be a big pat on my back.
"In the last round, my putter was hot when I needed it to be. However, I would say that I was still not fully satisfied with my putting. I enjoyed good momentum after the three consecutive birdies from the ninth to the 11th. I thought I had the title in the bag at that stage. But I kept striving to push the bar for myself as I had a deeper number in mind.
"The PGTI's Panchkula event in May was a learning curve for me as I came close to winning there before stumbling on the last day. The lessons from that event helped me immensely in today's final round. This time around my execution was good as I did well to close out the match.
"I'm now keen to contend in the PGTI Emerging Player of the Year race. It will be great to compete for the honour of winning the Emerging Player against some of my former India teammates from the amateur level such as Kshitij Naveed Kaul and Priyanshu Singh."
Runner-up Kushal Singh's 58 consisted of an eagle and two birdies. It gave him his second top-10 and best finish of the current Feeder Tour season.
Lucknow's Rishi Kumar carded a third straight 60 to take third place at six-under-180.
Delhi's Dhruv Sheoran posted a 62 to drop from overnight second to fourth position at five-under-181.
Mumbai's Anil Bajrang Mane (61) continued to lead the Feeder Tour Order of Merit after he finished eighth at two-under-184. Mane leads the money list with season's earnings of Rs. 1,55,160 while Yuvraj Singh Sandhu is second with earnings of Rs. 1,39,840. Yuvraj took home a winning cheque of Rs. 1,01,720 from Madhuban Meadows on Friday.
Karnal golfers, professional Mani Ram (62) closed the week in tied 11th at even-par-186 while Ritesh Kumar (67), the lone amateur in the field, was 37th at 10-over-196.