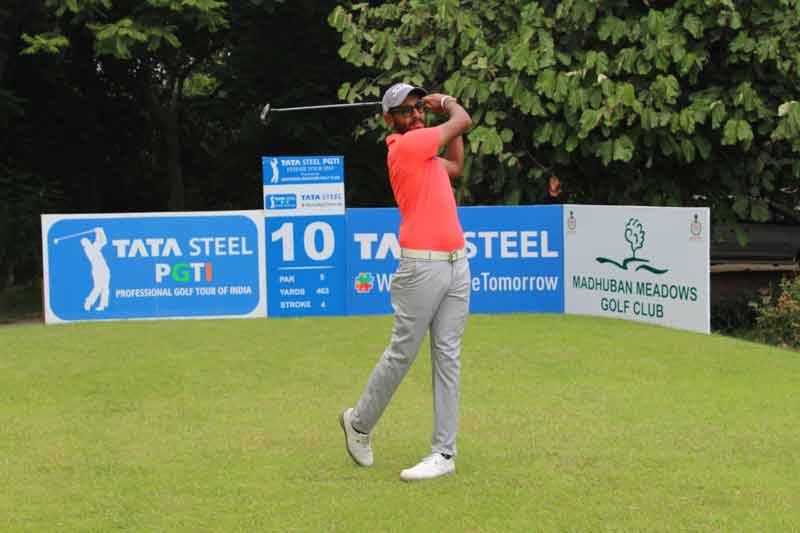 Karnal: Chandigarh's Yuvraj Singh Sandhu produced a hard-fought two-under-60 despite a cold putter to take a two-shot lead in round two of the TATA Steel PGTI Feeder Tour 2019 Presented by Madhuban Meadows being played in Karnal.
Twenty-two-year-old rookie Yuvraj (57-60) emerged as the top contender going into the final round as his total read seven-under-117. Sandhu's nearest challenger is Delhi's Dhruv Sheoran (56-63) who was placed second at five-under-119.
As a result of heavy rain one day prior to the event, the 14th and 15th holes at the Madhuban Meadows Golf Course, both par-4s, have been rendered unplayable for the whole tournament, thus all three rounds will feature 16 holes each with the par for the course being 62.
The cut went at five-over-129. Thirty-six professionals and one amateur made the cut for the third and final round.
Yuvraj Singh Sandhu, who has performed extremely well in his rookie season on the PGTI's main tour this year with three top-20s to his credit, raised his hopes for a maiden title on Thursday. Yuvraj, lying overnight second, one off the lead, found his way to the top of the pack in the second round courtesy an eagle and a birdie which came at the cost of a solitary bogey.
Sandhu had a slow start as he made a three-putt for bogey on his opening hole, the 10th. He then struggled to score as the putts didn't roll in for him on the back-nine. Yuvraj's big breakthrough came on the par-4 fourth where he chipped-in from 20 yards for an eagle-two. On the next hole, his tee shot was plugged in the bunker but he managed to make a good up and down there for an outstanding par-save.
Yuvraj missed 10-footers for birdie on the seventh and eighth but made up with an exquisite chip on the ninth that set up a tap-in birdie. He narrowly missed a second eagle on the ninth where his chip lipped-out.
Sandhu, who was tied fourth at the last Feeder Tour event in Faridabad, said, "My driving, approach shots and chipping were all pretty sharp today but my putts just didn't find the hole. I've hit it close on both days and today most of my putts were within 15 feet. But I didn't convert any of those chances.
"This is a feel-based course. So I feel I have the momentum going into the last round. I'll look to stick to my pre-shot routine and improve on my putting."
Round one leader Dhruv Sheoran slipped to second position on Thursday after shooting a one-over-63 that featured four birdies, two bogeys and a triple-bogey.
Lucknow's Rishi Kumar returned a second straight two-under-60 to be placed third at four-under-120.
Feeder Tour Order of Merit leader Anil Bajrang Mane (60) of Mumbai was in tied eighth at one-under-123.
Karnal golfers, professional Mani Ram (62) ended the day in tied 12th at even-par-124 while Ritesh Kumar (67), the lone amateur in the field, was tied 34that five-over-129.
Suryadeep Lather, another Karnal-based professional, missed the cut as he totaled 18-over-142 in the first two rounds.