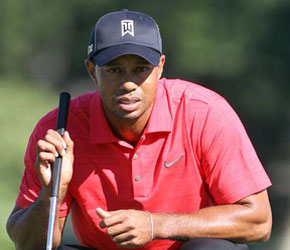 Medinah, Illinois: Chinese Taipei's C.T. Pan was ecstatic after being drawn to play alongside his idol and golf legend, Tiger Woods in the opening two rounds of the BMW Championship.
In the penultimate event of the PGA TOUR's FedExCup Playoffs, Pan, 27, will compete for the first time with Woods, a two-time FedExCup winner, and 2014 champion Billy Horshel at Medinah Country Club.
The Asian rising star needs to finish 12th or better this week to progress into the Playoffs Finale, the TOUR Championship in Atlanta next week. Having Woods for company will certainly serve as an inspiration for Pan, who started to play the game following Woods' rapid rise in the 1990s.
"It's going to be so much fun. I just can't wait to watch him striping the ball, and personally - now I belong to one of his design clubs, Bluejack National, we will talk about Bluejack National quite a bit. Definitely he's my idol growing up, still my idol, and it will be a cool treat to play with him," said Pan, who is currently ranked 37th on the FedExCup points list.
While it will be an occasion for Pan to cherish, he knows he must not get too distracted by the spectators who are expected to come out in large numbers this week. "I know it's going to be crazy playing with Tiger. It will be wild. I'm just looking forward to enjoying it and making the best out of it.
Pan likes what he sees at Medinah No. 3 course, which has hosted several majors and the Ryder Cup in the past. "I feel really good about my game. Last week I was able to shape a lot of iron shots to attack the pins, and I think I did pretty good at that, which I think is going to be very useful on this course," said Pan.
"I love this golf course. Unfortunately it's playing a little bit softer because it rained quite a bit. But it'll be fine. The course is going to be playing long and going to be a lot of birdies likely."
Last season, Pan came close to qualifying for the TOUR Championship, which is exclusive to the top-30 players only. He finished 35th on the FedExCup points list.
"I want to say last year I was in the same kind of situation, so I know what I need to do. I just need to play good golf out there and take it one shot at a time. These guys are really good, so I'm just happy that I still have the opportunity to have a shot at it," he added.