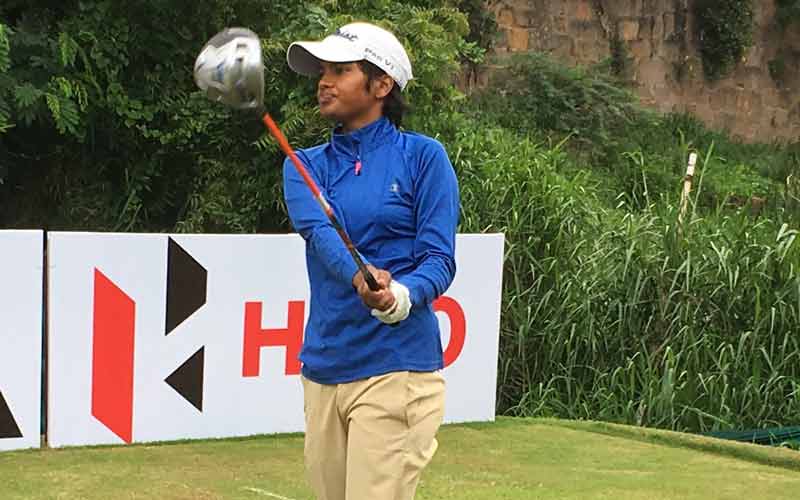 Hyderabad: Local teenaged amateur Sneha Singh hit back on the final day of the 11th Leg of the Hero Women's Pro Golf Tour to signal her arrival at the senior levels. The 15-year-old Hyderabad golfer, who is coached by her father Sanjay Singh, rode a birdie blitz towards the end of the front nine and then played very steady golf on the back nine to win the 11th Leg of the Tour.
As Sneha played gutsy golf for an even par 71, Vani Kapoor showed some rust and dropped some crucial shots to card a disappointing six-over 77. From being five ahead of Sneha, Vani finished one behind her in second place.
Gaurika Bishnoi (76) was third, while Ananya Datar (76) was fourth. Another talented amateur, Shreya Pal (74) was fifth.
Sneha became the first amateur to win in 2019 and she emulated Ridhima Dilawari and Pranavi Urs, who won as amateurs in 2018. Diksha Dagar was also an amateur when she won the closing event of the 2017 season. Other amateurs to win on the Hero WPG Tour include Gurbani Singh, Aditi Ashok and Tvesa Malik in 2015 and Raksha Phadke and Mehar Atwal in 2014.
Sneha started the final day five shots behind the leader Vani. She played in the group ahead of the leading trio, Vani Kapoor, Gaurika Bishnoi and Ananya Datar.
By the time she ended, Sneha, who is familiar with this layout, set the clubhouse target of nine-over 222 and waited for the final group to come.
Sneha had a great front nine despite two double bogeys as she displayed tremendous tenacity to fight back. She birdied the second but double bogeyed the Par-3 fourth. She birdied the fifth but again double bogeyed the Par-5 sixth. At that stage she was two-over and six shots behind Vani.
Sneha began her fightback from the seventh as she birdied three times in a row from seventh to ninth. Thereafter, barring a bogey on Par-4 12th, Sneha was steady with pars on the rest for an even par 71, which in all included five birdies, one bogey and two double bogeys.
Vani, who had a roller coaster of a round, had three bogeys against one birdie on the front nine, followed by two birdies, four bogeys and a double bogey. Vani bogeyed fifth, seventh and ninth and her sole birdie on the front nine came on the eighth as she turned in two-over to see her lead cut from five to two shots.
Gaurika, who started two ahead of Sneha, dropped four shots on the front nine and fell behind.
On the back nine, Vani once again had an up-and-down run. She dropped bogeys on 10th, 12th and 13th, but picked a birdie on 11th. After the first 12 holes, Vani was four-over for the day and eight-over for the tournament.
Meanwhile, Sneha, after turning in one-under added pars on the 10th and 11th. She bogeyed 12th to be even par for the day. Vani, playing one group behind was still one shot ahead till the 14th.
Over the last six holes, Sneha stayed calm and parred each of them, sometimes holing clutch putts. Vani on the other hand pulled two ahead with a birdie on Par-4 15th. She then dropped a shot on the 16th, but still held a one-shot lead. Then came the pressure and Vani double bogeyed the 17th, even as Sneha was on the 18th. As Vani double bogeyed, Sneha parred for a two-shot swing and sneaked ahead.
Vani needed a birdie on 18th to force a play-off but managed only par to finish with a card of six-over 77 and ended second in her first domestic outing this season.
Gauri Karhade, whose 71 was the day's best card along with Sneha, was tied-sixth with Neha Tripathi (78) and Khushi Khanijau (76) was eighth. Siddhi Kapoor (75) and Gurjot Badwal (80) were tied for 10th, while Ridhima Dilawari and Afshan Fatima were tied-11th.
Gaurika Bishnoi stayed on top of the Hero Order of Merit, while Neha Tripathi, Amandeep Drall, Ridhima Dilawari and Gursimar Badwal occupied the second to fifth places.
The 12th leg of the Hero WPG Tour will be held at Boulder Hills Golf and Country Club, Hyderabad from August 14th to 16th.