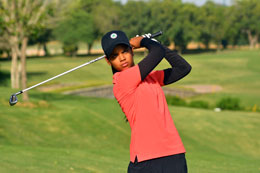 Hyderabad: Vani Kapoor moved into sole lead despite a late double bogey in the second round of the 11th Leg of the Hero Women's Pro Golf Tour at the Hyderabad Golf Club on Thursday. The 25-year-old NCR golfer, who is playing her first domestic event this season and has come back after two months while recovering from niggling injuries, had three birdies against two bogeys and a double bogey in her card of one-over 72.
Vani is now four-over 146, but three shots clear of her nearest rival Gaurika Bishnoi, who shot the day's best and the week's first par round of 71.
Gaurika, one of the only two players to have four birdies in the second round, birdied first, sixth, ninth and 17th, while dropping shots on second, seventh, 12th and 14th. Amateur Shreya Pal was the other player with four birdies, but she dropped numerous shots including a triple bogey on the par-4 18th for 76.
Ananya Datar overcame a rough front nine of five-over 40 with a one-under 35 in the back nine for a 75 that brought her to 151 and put her in shared third place with overnight leader, amateur Sneha Singh (78).
Sneha, the 15-year-old Hyderabad golfer who was outstanding on the first day, had a tough day despite three birdies. She had eight bogeys and one double bogey for seven-over 78 that saw her slip to Tied-third place.
Vani birdied the second, gave the gains back on the long Par-3 fourth and birdied the par-5 sixth as she turned in one-under. On the back nine, she dropped a shot on 12th, but birdied the Par-3 16th. Just as it seemed she was set for a big lead, she dropped a double bogey on Par-5 17th to fall back to one-over for the day and finished at 72.
Neha Tripathi (77), Gurjot Badwal (78), amateur Shreya Pal (76) and Khushi Khanijau (75) occupied the fifth to eighth places. Siddhi Kapoor (78) was ninth, while three players, Suchitra Ramesh (78), Gauri Karhade (79) and Amandeep Drall (82) were Tied-tenth.
Ridhima Dilawari and Gursimar Badwal were among the five players tied at 13th with a total of 160.
Tee times for Round 3, Leg 11, Hero Women's Pro Golf Tour, Hyderabad Golf Club:
7:00 AM: Jyotsana Singh 167, Anousha Tripathi 166, Ishvari Prasanna 165;
7:10 AM: Tavleen Batra 163, Ridhima Dilawari 160, Gursimar Badwal 160;
7:20 AM: Afshan Fatima 160, Sonam Chugh 160, Shriya Vivek 160;
7:30 AM: Amandeep Drall 159, Gauri Karhade 159, Suchitra Ramesh 159;
7:40 AM: Siddhi Kapoor 158, Khushi Khanijau 156, Shreya Pal (A) 154;
7:50 AM: Gurjot Badwal 153, Neha Tripathi 152, Sneha Singh (A) 151;
8:00 AM: Ananya Datar 151, Gaurika Bishnoi 149, Vani Kapoor 146;