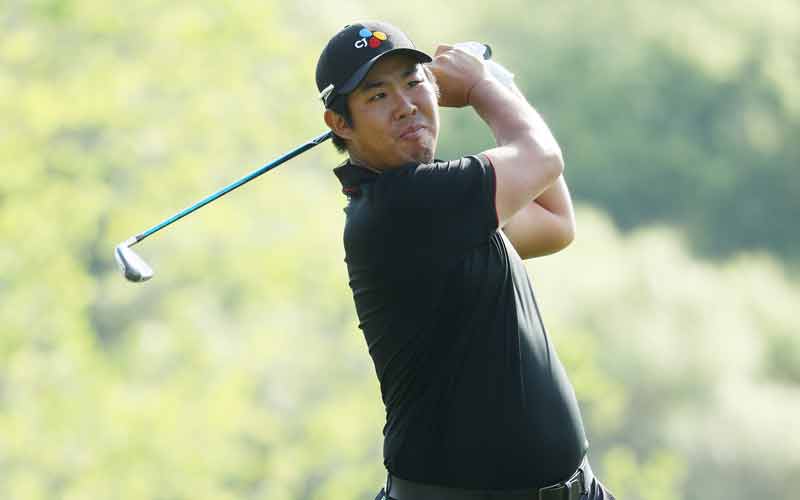 Jersey City, New Jersey: After two near misses, Byeong Hun An is determined to make it third time lucky.
A third-place finish at the Wyndham Championship on Sunday has pushed the South Korean into the Presidents Cup conversation, with two weeks remaining before qualifying concludes to determine the top 8 players for the International Team.
An, 27, moved up six rungs to 16th position on the latest standings and has this week's THE NORTHERN TRUST, the first of three FedExCup Playoffs event, to make another push into Captain Ernie Els' squad to face the United States Team at The Royal Melbourne Golf Club, Australia in December.
"Oh, definitely 100 percent in my head," said An when asked if the Presidents Cup race was on his mind.
"Even last week, it was my No. 1 priority. I've still got two more weeks to push and try to get into the top 8, and if I don't get in, then I think I have three to four more months until the (four) picks are made. If I somehow don't play and miss out on the top 8, I'll definitely try to play most of the fall events and get the last push. I've been playing well and need to get this momentum going."
Three other Koreans are also on the outside looking in, including rookie Sungjae Im (12th), Sung Kang (14th) and Si Woo Kim (15th), who featured in the Presidents Cup at Liberty National Golf Club two years ago.
An said missing out on the Presidents Cup in 2015 and 2017 is a huge motivating factor. He finished 12th on the points list in 2015 and 15th in 2017 but was overlooked by previous captain Nick Price on those occasions.
"Why do I want to? Because I missed the last two occasions marginally. When you miss out by a little bit, it hurts. It's very disappointing and I always want to play team golf. I like playing as a team and play not just for money. You want to play for your country and play for the team. That's why I went to play the World Cup last year at the end of the season because I wanted to represent something more than myself. I think that's the beauty of team golf is you play more than for yourself. It's my third time trying to get on the Presidents Cup team, and hopefully I can get in," he said.
An still gets goosebumps watching old videos of the famous duel in the dark between Els and Tiger Woods, this year's U.S. Team captain, in the 2003 Presidents Cup in South Africa that ended in a dramatic tie.
"The things I see that gives me goosebumps is when you see those videos. It's pretty cool to see them playing and that's why I want to be part of the team. That's been my No. 1 goal since last year."
The 21-year-old Im, last season's Korn Ferry Tour No. 1, is also in the running to book his ticket to Royal Melbourne. Seven top-10s on the PGA TOUR this season has placed him in 12th position on the team's points list, but unlike An, he is taking it one step at a time.
"I've played better than expected. I could give myself nine out of 10. I think I played well from the very beginning. It made me comfortable and gave me confidence. It helped me a lot," said Im, who is highest ranked Asian on the FedExCup points list in 23rd position.
"I'm not thinking of the rookie of the year or Presidents Cup. I'm trying to do my best every tournament, every day and play better. I'd love to play in Presidents Cup."
Kang is also keen to make a late bid for Els' team. "I played with Mr Els in Detroit and my mindset changed a lot after playing with him. I've only watched him on TV when I was younger and thought he'd be easy going and calm but when I played with him, he was very competitive. Obviously he wants to win. I want to be part of his team. Being part of it will be amazing. I've watched the Ernie and Tiger playoff (in 2003) … it was one of the best things I've seen."