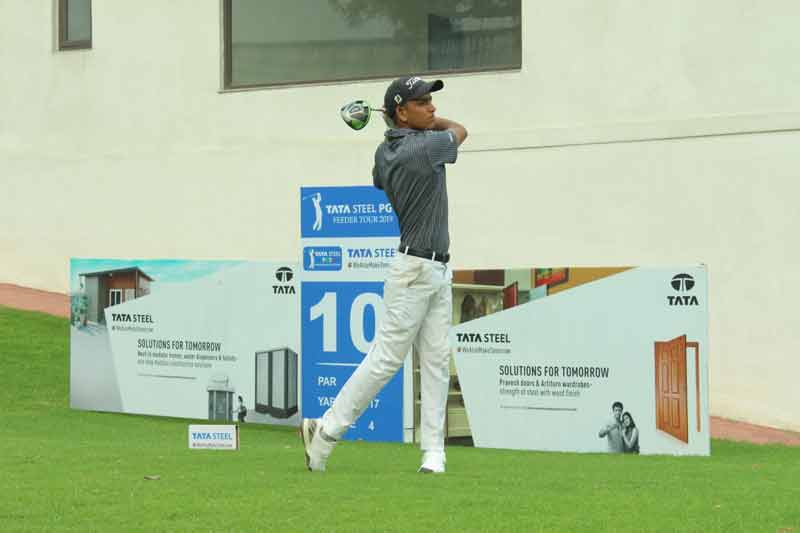 Faridabad: Nineteen-year-old rookie Amrit Lal of Chandigarh shot a top-class six-under-66 to grab the first round lead at the TATA Steel PGTI Feeder Tour event being played at the Aravalli Golf Course in Faridabad, Haryana.
Delhi's Jaiveer Singh Atwal carded a five-under-67 to occupy second place.
Fifty-two-year-old veteran golfer Gulfam of Delhi produced an incredible two eagles during his opening round of four-under-68 to share the third spot with another Delhi-based golfer Bhanu Pratap Singh and Pune's Sagar Raghuvanshi.
Amrit Lal, who was playing in only his third professional event since turning professional, sank nine birdies in exchange for a bogey and a double-bogey on Tuesday. He made consecutive birdies on the seventh, eighth and ninth and on the closing three holes, the 16th, 17th and 18th.
Lal was sharp with his short-game as he chipped-in from the bunker for birdie on the seventh and drained two 20-feet birdie putts on the first and the 18th. He also converted four chip-putt birdies.
Amrit said, "My driving and my short-game were spot on today. I also played a couple of excellent bunker shots. I only had one bad hole and that was the fifth where I found the hazard and subsequently three-putted for a double-bogey.
"This performance is a huge confidence-booster as these are early days for me in professional golf. Hitting good tee shots will hold the key on this course over the next two days."
Gulfam, who won an event on the Feeder Tour in 2014 and also sealed the number one spot on the tour's Order of Merit the same year, holed his approach shots on the first and 17th, both par-4s, to make two eagle-twos during his round. The experienced campaigner's rescue shot found the hole from 185 yards on the first while on the 17th he holed his wedge shot from 90 yards.
Gulfam also made two birdies and two bogeys in round one. He left himself a tap-in birdie on the par-3 fourth where his brilliant tee shot landed two feet from the flag.
Gulfam said, "It's the first time ever that I've made two eagles in a round. Two eagle-twos are even more special. I felt it was a day when luck also seemed to favour me as I holed out two shots from a long distance. My ball-striking was fantastic. However, my putting still isn't up there so I'll need to get it going to create more chances in the next two rounds."
Chandigarh's Harendra Gupta, one of the leading names in the field, fired a 70 to be placed tied ninth.
The two Faridabad golfers, Abhinav Lohan (71) and Ramesh Kumar (73) were placed tied 13th and tied 23rd respectively.