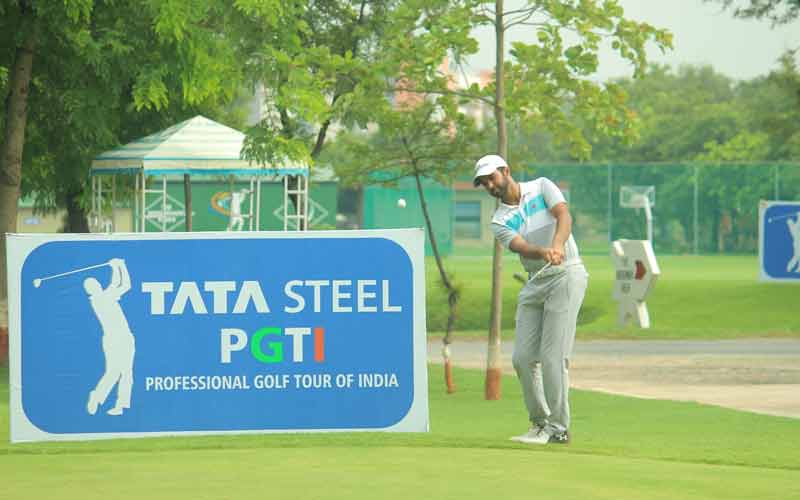 Delhi: Defending champion Dhruv Sheoran took the second round lead at the TATA Steel PGTI Feeder Tour 2019 presented by BSF Golf Course, being played in Chhawla, New Delhi. The Delhi-based Sheoran produced a four-under-31 on Thursday to take his total to seven-under-92.
Sachin Chouhan of Mhow, Madhya Pradesh, was in second position with a total of six-under-93. Chouhan also shot a four-under-31 on day two.
The morning showers delayed the start of play by three hours. Rain also resulted in rendering nine holes unplayable on day two. Therefore, the second round featured only nine holes, the first, second, fourth, fifth, sixth, 15th, 16th, 17th and 18th. The par for the course for round two was set at 35.
The cut was declared at two-over. The top 37 professionals out of the total field of 72 made the cut for the last round.
Dhruv Sheoran, who was overnight tied third, powered ahead in round two thanks to a bogey-free 31. Dhruv, who had won two back-to-back Feeder Tour titles last season, was accurate off the tee and with his approach shots as he left himself a couple of tap-in birdie conversions and one from five feet. Sheoran is playing only his second season as a professional.
The 24-year-old from the DLF Golf & Country Club, said, "A nine-hole round is like a shootout. So to make the most of it my game-plan was to play more aggressively today. Thus I tried to make more birdies as compared to yesterday. The plan worked well for me. I also putted better today.
"I'd been working on my alignment in the lead up to this tournament. I feel those changes are now settling in well with my game. One good swing in round one gave me the much-needed momentum and confidence for this week. The good memories of winning at this venue last year will also help my cause going into the final round."
Sachin Chouhan too came up with an error-free 31 on Thursday to climb five spots from his overnight tied seventh to second.
Chandigarh's Akshay Sharma, Mumbai's Anil Bajrang Mane and the Delhi duo of Ajay Baisoya and Ikramuddin Shah were all in tied third at five-under-94.
Round one leader Kushal Singh (36) of Gurugram dropped to tied seventh at four-under-95. Delhi's Rashid Khan (32) was also placed tied seventh.