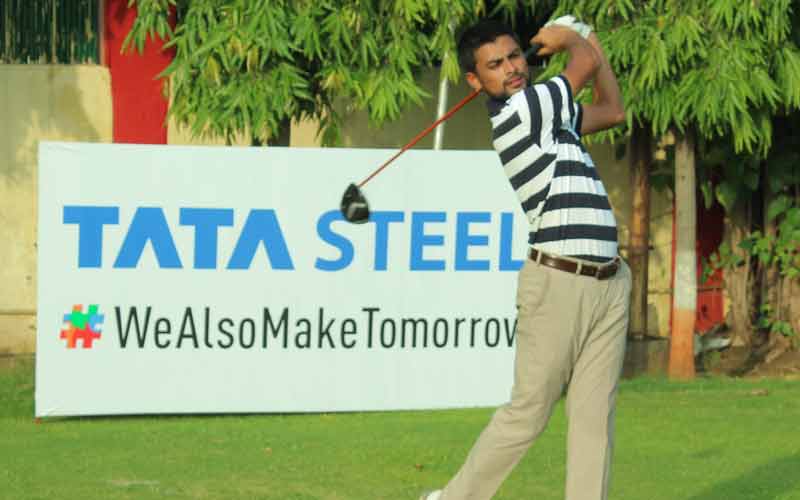 Delhi: Gurugram-based Kushal Singh struck a first round score of five-under-59 to enjoy the early lead at the TATA Steel PGTI Feeder Tour 2019 presented by BSF Golf Course, the season-opener, being played in Chhawla, New Delhi.
Akshay Sharma, a winner on the PGTI (main tour) last year, was placed second as a result of his four-under-60.
As a result of heavy rain in the morning before the start of play, the third and 12th holes, both par-4s, were rendered unplayable on Wednesday, thus the first round featured 16 holes with the par for the course being 64. The start of play was delayed by 30 minutes in round one due to the rain in the morning.
Twenty-four-year-old Kushal Singh hit the right notes from the very start as he put together five birdies in the first half of his round. The man from the Golden Greens Golf Course in Gurugram sank a 20-footer for birdie on the second before landing it within a foot on the fifth, sixth and ninth for tap-in birdies. Kushal then made a birdie and bogey each after the turn to close with a solid five-under to lead the 72-man field.
Kushal, who turned professional in 2015, said, "I'm really pleased with this effort considering the course conditions were quite tough today due to the heavy rain. The course was playing longer than usual. I struck it well to land it close on many occasions. It's important for me to get in some good performances on the Feeder Tour this year since I've been struggling with my game this season. I've not made a single cut in six starts."
The highlight of second-placed Akshay Sharma's round was the chip-in from 40 yards for eagle on the par-4 11th.
Defending champion Dhruv Sheoran of Delhi, who had won two back-to-back Feeder Tour titles last season, was placed tied third at three-under-61 along with Lucknow's Amardeep Rawat, Kapurthala's Ashbeer Saini and Delhi's Vikram Rana.
Delhi's Rashid Khan came up with a one-under-63 to be tied 11th.