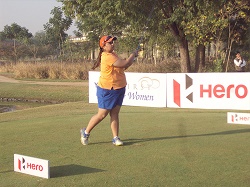 Bengaluru: Gursimar Badwal and Amandeep Drall celebrated the arrival of the Hero Women's Pro Golf Tour to the historic Bangalore Golf Club with identical scores of three-under 67 to take a share of the lead in the tenth leg of the Tour. They were closely followed by Ananya Datar who shot two-under 68.
Last week's winner Ridhima Dilawari, Sonam Chugh and Neha Tripathi shot one-over 71 each to be Tied-fourth, while three others, Siddhi Kapoor, Gurjot Badwal, sister of Gursimar and Gaurika Bishnoi shot 72 each as the leaderboard was crowded.
Amandeep Drall, who started 20 minutes after Gursimar from the first tee, was in sparkling form on the front nine with three birdies between fifth and eighth. She added one more birdie on 17th and her only blemish of the day was the bogey on 18th, but for which she would have had sole lead.
Gursimar birdied second, gave that back on fifth but birdied seventh and eighth to turn in two-under. On the back nine, she birdied 17th and parred all others.
Ananya Datar also had three birdies between sixth and ninth and two more one on 12th and 16th, but she also had three bogeys for a 68. Like Ananya, Sonam Chugh also had five birdies, but she also had a double on first and four other bogeys on back nine.
Neha Tripathi had an eagle on front nine, but five bogeys on back nine with just two birdies in the round meant she finished with 71.
Another player with an eagle was Gurjot Badwal, who shot an impressive two-over 72 in her maiden event as a professional.
Tee times for Round 2 of the tenth leg of the Hero Women's Pro Golf Tour, Bangalore Golf Club:
Tee 1:
10:00 AM: Gauri Karhade (77), Ishvari Prasanna (77), Suchitra Ramesh (75)
10: 10 AM: Jyotsna Singh (75), Afshan Fatima (73), Anousha Tripathi (73);
10:20 AM: Gaurika Bishnoi (72), Gurjot Badwal (72), Siddhi Kapoor (72);
10:30 AM: Neha Tripathi (71), Ridhima Dilawari (71), Sonam Chugh (71);
10:40 AM: Ananya Datar (68), Amandeep Drall (67), Gursimar Badwal (68)
Tee 10:
10:00 AM: Pranavi Urs (A) (78), Khushi Khanijau (78), Tavleen Batra (78);
10: 10 AM: Mehar Atwal (78), Anisha Padukone (79), Shreya Vivek (79);
10:20 AM: Anisha Agarwalla (79), Rhea P Saravanan (A) (79), Asmitha Sathish (A) (80);
10:30 AM: Smriti Mehra (80), Oviya Reddi (80), Tanirika Singh (81)