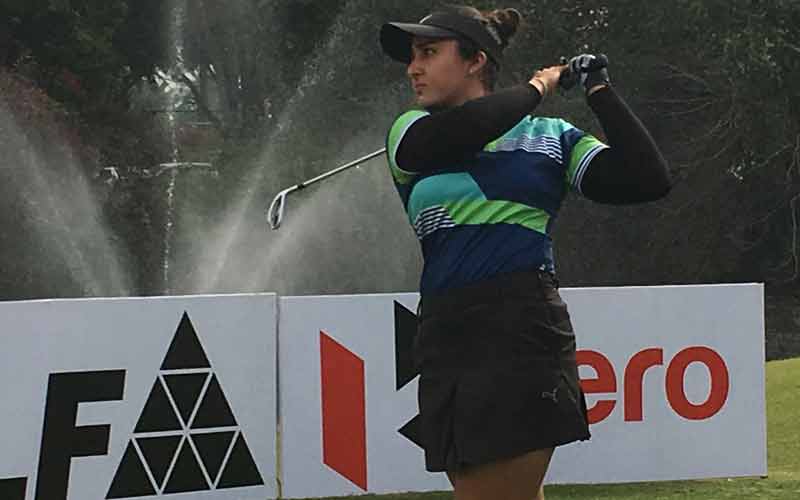 Hosur, Tamil Nadu: The Women's Golf Association of India enters a new era with its first domestic Rs.10 lakh event as the number of professionals in fray rises to 26 alongside three amateurs for the seventh leg of the Hero Women's Pro Golf Tour. This is the largest field assembled at the fledgling domestic Hero WGAI Tour. The purse also rises to an all-time high of Rs.10 lakhs for a domestic event.
Barring Aditi Ashok, Diksha Dagar, Vani Kapoor and Sharmila Nicollet, all other leading Indian women pros are playing in the event. While Aditi is playing on the LPGA, Sharmila is on the Symetra Tour in US. Diksha Dagar is in Europe getting ready for her maiden appearance in a Major, as she plays the Evian and Women's British Open.
It is a major landmark for the Tour, whose President Mrs. Kavita Singh and Secretary General Ms. Champika Sayal have taken the Tour to a new level. Coupled with this, the WGAI has also held the Hero Women's Indian Open for 12 years in a row. This season, Diksha Dagar also won on the LET with a maiden title in the Women's South African Open, signalling a new high for Indian women's golf. Earlier, Aditi has won three LET titles in 2016 and 2017.
The seventh leg to be held at the Clover Greens in Hosur, Tamil Nadu will see the resumption of the Hero WGAI Tour after a gap of two and a half months. This is the first of four events scheduled in Southern India this season and the next leg is also scheduled in Bengaluru.
The past six legs have seen five winners, with only Ridhima Dilawari winning twice in three starts. Neha Tripathi, Gaurika Bishnoi, Gursimar Badwal and Tvesa Malik have one win each.
Neha, who currently leads the Hero Order of Merit, holds a Rs.31,000 lead over Gaurika Bishnoi who has played five events, as compared to Neha's six starts. Gaurika, in turn, is Rs.40,000 ahead of Gursimar Badwal, who has also played all six events so far. Amandeep Drall, Ridhima Dilawari who has played just three events and Siddhi Kapoor are fourth, fifth and sixth on the merit list.
With 29 players in the fray including three amateurs, Pranavi Urs, Sneha Sharan and Asmitha Sathish, there will be 10 flights with the first one comprising Anisha Padukone and rookie Tanirika Singh playing in a two-ball.
The groups with timings are as follows:
8:30 AM: Anisha Padukone, Tanirika Singh;
8:40 AM: Suchitra Ramesh, Sneha Sharan (A), Komal Chaudhary;
8:50 AM: Hita Prakash, Siddhi Kapoor, Sonam Chugh;
9:00 AM: Ananya Datar, Neha Tripathi, Gursimar Badwal;
9:10 AM: Khushi Khanijau, Mehar Atwal, Pranavi Urs (A);
9:20 AM: Millie Saroha, Oviya Reddi, Gaurika Bishnoi;
9:30 AM: Asmitha Sathish (A), Jyotsana Singh, Ishvari Prasanna;
9:40 AM: Astha Madan, Smriti Mehra, Amandeep Drall;
9:50 AM: Neeharika Thangamma, Ridhima Dilawari, Anousha Tripathi;
10:00 AM: Gauri Karhade, Tvesa Malik, Ayesha Kapur;
The course:
The Clover Greens course has been designed by Phil Ryan of Pacific Coast Design, Australia. For the tournament, it has been set up as an 18-hole, 6189 yard, par 72 course. Clover has stunning views and half the course navigates a massive rock outcrop. It is a visually attractive course and at the same is challenging and yet rewarding for both beginners and seasoned players.