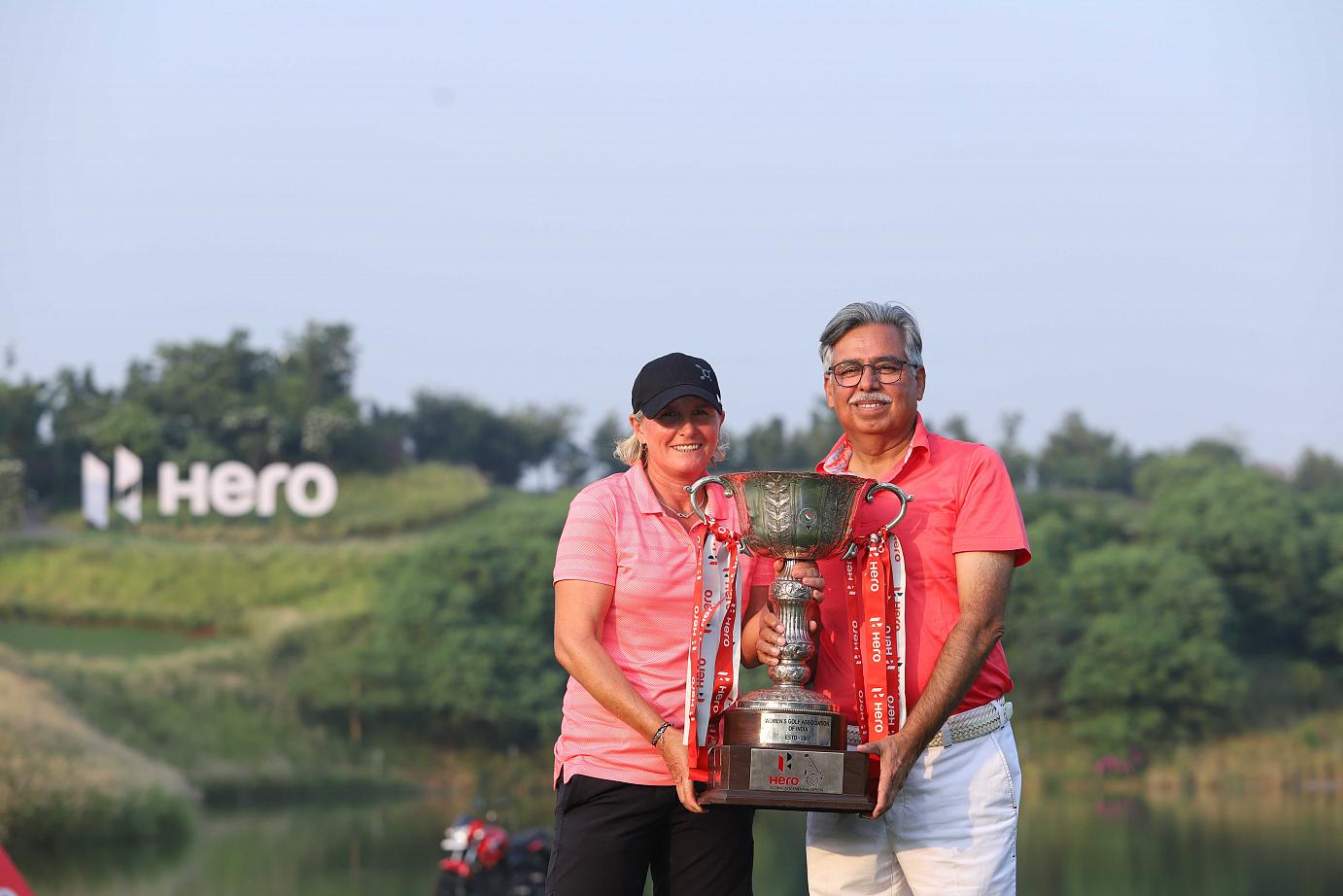 Ninth time lucky. That's what Becky Morgan ought to be saying. After 18 years, most of which were spent on either side of the Atlantic and playing 118 tournaments thus far, she finally found success on her 119th start.
The 44-year-old Morgan, who collected a lot of frequent flyer miles while shuttling between the Ladies European and Ladies PGA Tour across the Atlantic, won her maiden pro title in India on the LET.
"I have always loved everything about India. And that's why I have kept coming back and I did come close to winning a couple of times and finally, I got the job done this time," said an elated Morgan.
Starting the day in the shared lead alongside Nicole Broch Larsen of Denmark and Eleanor Givens, Morgan held at bay a four-player pack to emerge the winner by two shots.
Caroline Hedwall (68), Christine Wolf (70), Felicity Johnson (70) and Nicole Broch Larsen (71) shared the second place at 5-under 283, while two Thais, Pannarat Thanapolboonyaras (69), Supamas Sangchan (70) and a Finn Noora Komulainen (73) were 1-under 287 and Tied-6th, as only eight players finished the week under par.
Morgan has played each and every edition of the HWIO since it came on the Ladies European Tour in 2010. In the past eight editions, she has had three Top-10 finishes including a second in 2015 and third in 2011. She was T-10 in 2010.
Morgan stays steady amidst tension
Morgan had three birdies against no bogeys on the front nine, but she did drop a shot on the 11th. She then steadied herself to birdie the par-4 13th and parred the last five holes amidst a lot of tension.
The 2011 champion, Caroline Hedwall (69) set the clubhouse target at 5-under with a birdie on 72nd.
Wolf, till then at 7-under with Morgan, arrived at 18th and once again took a dip in the water hazard in front of the green, just as she did on Saturday. This time it was only once. Holding her head in her hands, she came out with a double bogey seven which ended her chances of holding that Trophy. She finished at 5-under, despite having scored 9 and 7 on two days at the Par-5 18th.
In the same group as Wolf was Felicity Johnson (69), who at one time shared the lead. But she dropped a shot on 17th and managed only a par on 18th as three players ended at 5-under.
Minutes before her, Nicole Broch Larsen, one of the three co-leaders overnight, landed a brave second shot onto the green and putted it out for an eagle, her second one of the day. Broch Larsen's two eagle putts measured 90 feet on the ninth and 40 feet on the 18th.
The steady Morgan, still at 7-under, admitted she hardly looked at the scoreboard through the day. She held her nerves and putted out for a par and the title at 7-under.
As for her plans from here, she smiled and said, "I can retire now! No, I'll pretty much be playing full-time in Europe now because I didn't do too well in the States and I'm looking forward to a better schedule coming up next year. I'll be enjoying myself more now!"
As for Wolf, who took 16 shots on the last two days on the 18th, it was quite an achievement to still finish Tied-2nd. She said, "I played well today, from the start onwards. I played very solid and then 18 got me again. It's a nice hole, it's just maybe I need to change my strategy or something. "