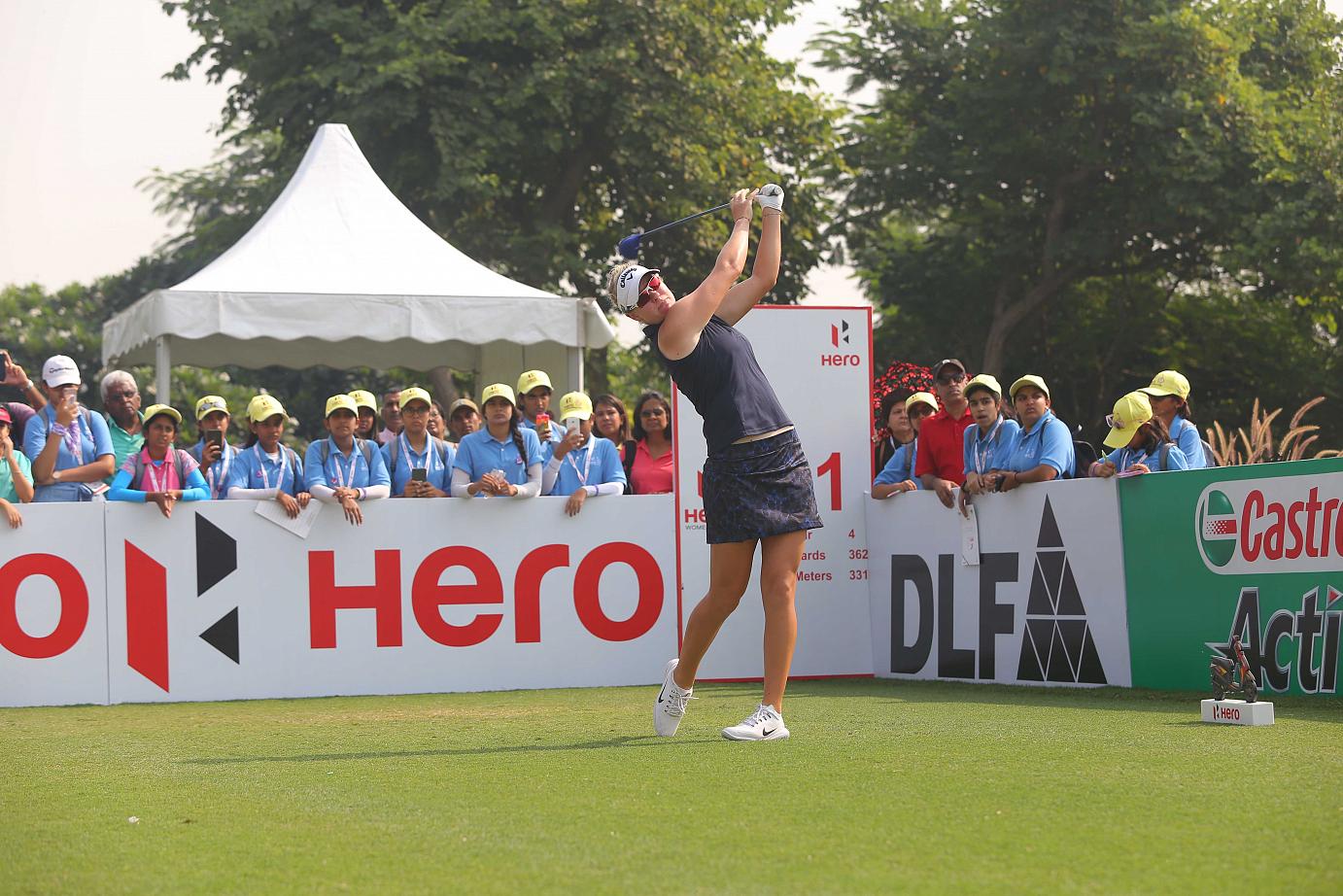 The closing stretch at the Gary Player course took a heavy toll of the overnight leaders and allowed a group of chasers to not only catch up but actually overtake them in the third round of the Hero Women's Indian Open 2018 on Saturday.
Wolf, a comfortable leader a day earlier, now trails the leading trio of Welsh player Becky Morgan (68), Danish Nicole Broch Larsen (69) and English Eleanor Givens (70) by one. The leaders are at 4-under 212 and Wolf is at 3-under 213.
Overnight leader by four, Wolf was all set to close the third day with another handy lead, before a string of errors on the 18th saw her take a quadruple bogey on the Par-5 18th. Wolf twice found the water on the final hole, hitting her second and fifth shots into the lake running down the left side of the fairway.
She dropped from a comfortable first to a crowded fourth place alongside England's Felicity Johnson (69) and French star youngster Manon Molle (71) at the Gary Player Black Knight Course.
Tvesa Malik continued to be the best Indian though she is no longer under par and in red figures. The 22-year-old golfer, for whom the DLF Golf & Country Club is the home course, shot 1-over 73 with a satisfying birdie on the 18th. She seemed to be doing well at 1-under through 12 holes, which saw her play a steady bogey-free front nine at 1-under 35. She bogeyed the 10th but got the shot back on 11th to stay on in the Top-10. She is now even par 216 for three days and Tied-11th with seven others, including Isabelle Boineau (65), who shot the week's best card of 65, an improvement of 10 shots on her previous round.
Of the other Indians, Gaurika Bishnoi (72) endured a round with five birdies and five bogeys to be 1-over for three rounds and was Tied-19th with Ridhima Dilawari (71).
Vani Kapoor and Astha Madan shot identical cards of 2-under 70 each and rose to T-31st at 4-over 220, while amateurs Diksha Dagar (73), Sifat Sagoo (73) and Pranavi Urs (74) were all at 8-over 224 and Tied-51st.
Of the Top-10 only Caroline Hedwall, who made good progress with a 69 that made up for her second round 77, has won a title on LET in the last two years. Hedwall, the 2011 Hero Women's Indian Open winner, also won the Lacoste Ladies Open de France last month.
The tournament is wide open with just four shots separating 18 players ahead of Sunday's action.
Wolf had coped well with the ups and down for the first 11 holes, during which she had three birdies and two bogeys to move to 9-under. She dropped a shot each on 12th and 15th to drop to 7-under, but still led by three shots over the three co-leaders who were already in the clubhouse, when the Austrian arrived on the 18th.
Wolf had much to be disappointed about but did not let her spirits drop. She said: "I don't think it was pressure. This course takes a lot out of you, so it can happen that your concentration goes. I think I was getting a bit quick on my swings and hit a few fat shots, so it can happen quickly. Maybe it was mental tiredness, you have to focus on every shot, maybe it got the better of me. If this had happened yesterday, I would have lost the title, but now I have the chance to get it back."