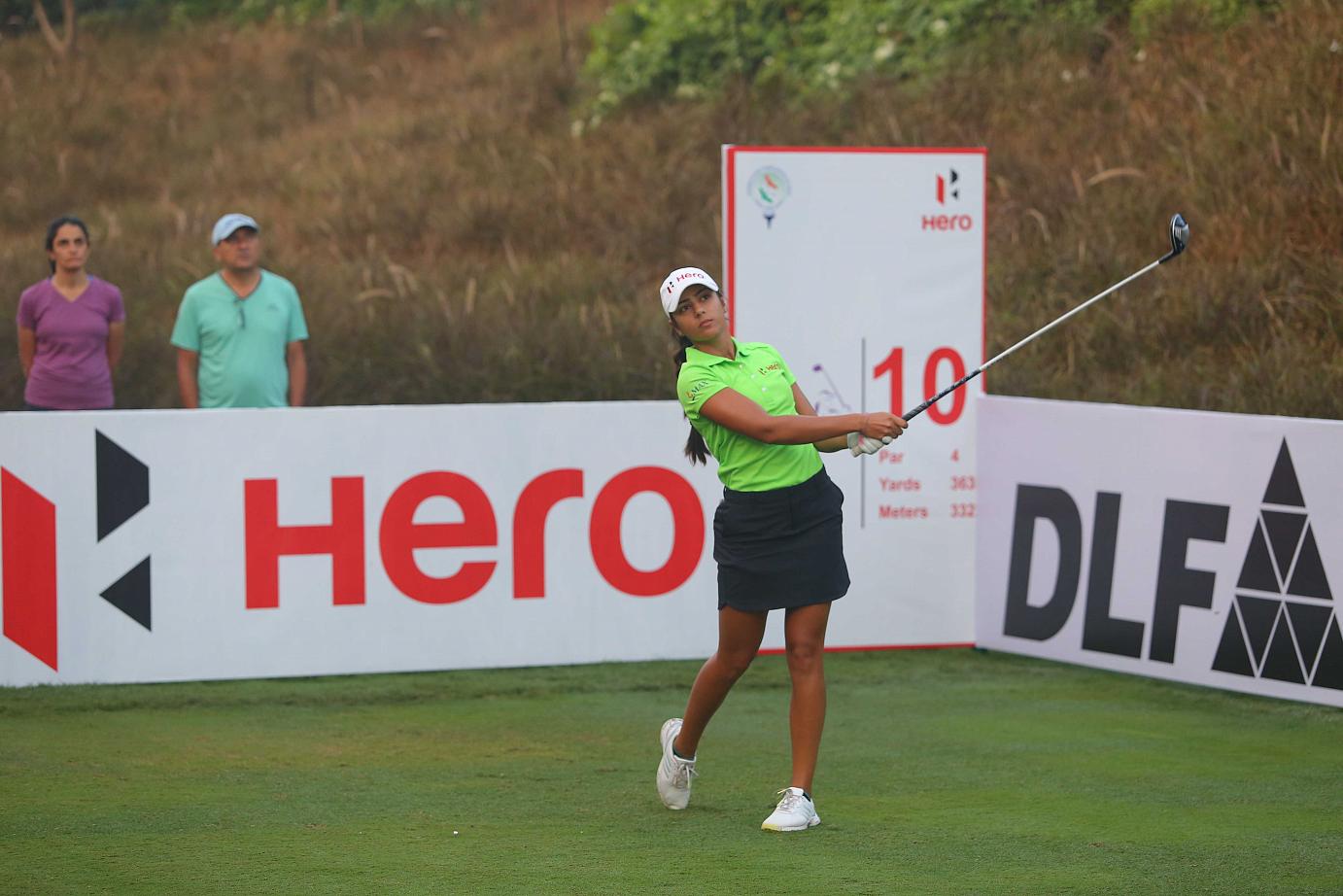 Tvesa Malik, making only her second appearance at the Hero Women's Indian Open as a professional, carded one-under 71, but she felt it could have been way better. However, with 72-71 on the first two days, she was the best Indian at T-7th at the Gary Player Black Knight course at the DLF Golf and Country Club at the 2018 edition of the tournament.
With as many as eight Indians, three of them amateurs, making the cut, it was a new high for Indian women's golf. Apart from Tvesa, the others were Gaurika Bishnoi (71-74) at T-16th, Ridhima Dilawari (69-77) at T-27th, Vani Kapoor (77-73), Astha Madan (75-75) and amateur Pranavi Urs (76-74) at T-51st besides two more amateurs Sifat Sagoo (72-79) and Diksha Dagar (75-76) at T-61st.
This was the highest number of Indians making the cut in the history of the Hero Women's Indian Open. Also auguring well for the next lot of Indian golfers, is that all three Indians, who represented India at the 2018 Asian Games, Ridhima Dilawari, Sifat Sagoo and Diksha Dagar made the cut, which fell at seven-over 151. Ridhima turned pro three weeks ago and finished T-4th in the domestic Hero WPG Tour, in her only pro outing before this event.
Vani Kapoor, whose first 77 put her in the danger zone, played very well for the most part of the round despite suffering from tendinitis. She reached 3-under through 13 holes for the day at one stage. Then she dropped a bogey on Par-4 14th and a crippling triple bogey on Par-5 15th. She hung in with three pars over the tough closing stretch and ended at 1-over 73 to survive the cut and live to fight over the weekend.
Leader on the Order of Merit on the domestic Tour, Tvesa said, "I'm disappointed with today, I feel I could have finished much better, I had a lot of good chances for birdies especially in the last 4-5 holes but did not convert them. My game has been good so hopefully, tomorrow and day after will be better. I started really good with two birdies on the 10th and 11th, had another birdie on the 16th but after that, I just missed a lot of birdies."
She added, "I turned pro last July, so I played the second half only as a pro. I've played all the events so far this year. The experience has been really good, we have played some good courses and we're lucky to have a big tour with a lot of events."
Ridhima had a frustrating day with five bogeys and no birdies, a far cry from the first day when she had four birdies, three of them in last four holes, and just one bogey. Dilawari, playing only her second pro event, is now 2-over 146 for 36 holes and is lying T-27th.
Amateur Pranavi had a bogey and double bogey on third and fourth but in the six-hole stretch from fifth to tenth she had five birdies. She again dropped four bogeys between 13th and 18th to finish at 74 but made the cut.
Sifat, who shot 72 on the first day, had six bogeys and a double to be 8-over with one hole to go. A birdie on closing 18th saved the week for her, while Diksha, her Asian Games teammate, had five bogeys against one birdie in her second round 76.