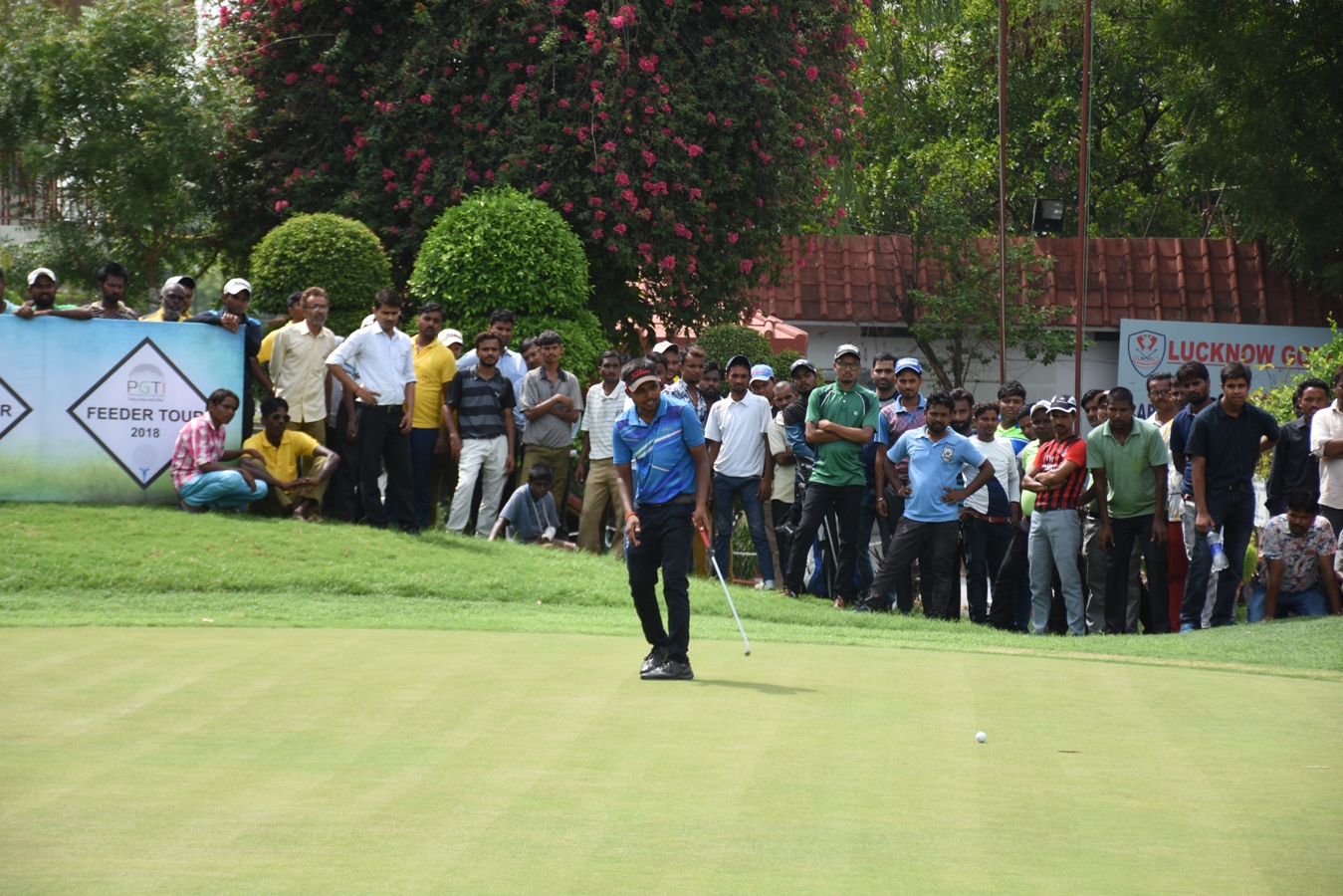 Chandarjeet Yadav of Chandimandir, Haryana, produced a timely five-under-65 in the third and final round of the PGTI Feeder Tour event at the Lucknow Golf Club to bag his maiden title.
Yadav's (71-65-65) second straight 65 enabled him to maintain his overnight one-shot lead and took his total to nine-under-201.
Lucknow's Amardeep Rawat (72-65-65), who was overnight second and one off the lead, also delivered a 65 on day three to end up in the runner-up position at eight-under-202.
The 23-year-old Chandarjeet Yadav was rock-solid on the front-nine as he made three birdies which included two conversions from a range of 10 to 25 feet. Chandarjeet then hit his lob wedge to perfection to earn tap-in birdies on the 10th and 12th that strengthened his claims to the title.
Yadav's bogey on the 13th was his only blemish of the day. The man with two previous top-10s in the season, finally worked his way to his first title with a 15-feet birdie putt on the 16th and steady pars on the last two holes.
Chandarjeet, who has now moved up from ninth to fifth place on the Feeder Tour Order of Merit, said, "I was just aiming to hit maximum fairways and greens today. I was focusing more on playing to my plan rather than worrying about the result.
"I wasn't sure of my win even after the birdie on the 16th. I knew I had to make pars on the last two holes since they are among the toughest holes on the course. I knew negotiating the last two holes without dropping a shot would force my nearest rival Amarjeet to go for a birdie which wasn't an easy task.
"I'm really proud of this effort and it has given me the confidence to raise my game further and also make a mark on the main tour. All aspects of my game were sharp this week especially my putting average which saw a huge improvement.
"I've now set my sights on the top position in the Order of Merit as that would ensure me a card on the main tour for 2019. I once again take this opportunity to thank Lt. Gen. Baljeet Singh from Panchkula who has given me all the support possible since 2015, be it in terms of financial assistance or providing golfing equipment. His encouragement is the reason that I'm being able to play as a professional today."
Amardeep Rawat, like Yadav, also mixed six birdies with a bogey on Friday. Playing at his home course, Rawat couldn't force a playoff in the final stages as he made pars on the last two holes to finish one shot behind Yadav.
The 30-year-old Rawat, who recorded his second top-10 of the season, thus moved up from 10th to sixth in the Feeder Tour money list.
Rajesh Kumar Rawat, another Lucknow-based professional, registered the tournament's best round of six-under-64 to finish third at five-under-205.
Former Indian Open champion Vijay Kumar of Lucknow secured tied seventh place at even-par-210.
Delhi's Pawan Verma, who claimed tied 18th place at six-over-216 at the Lucknow Golf Club, has now climbed from second to first position in the Feeder Tour Order of Merit with season's earnings of Rs. 2,42,067.
Kapurthala's Ashbeer Saini, who finished tied fifth in Lucknow at one-under-209, has gained one place and moved into second position in the Feeder Tour rankings with season's earnings of Rs. 2,34,600.
The sixth and last event of the season will be played at the Palms Golf Club & Resort in Lucknow from July 10 – 12, 2018.