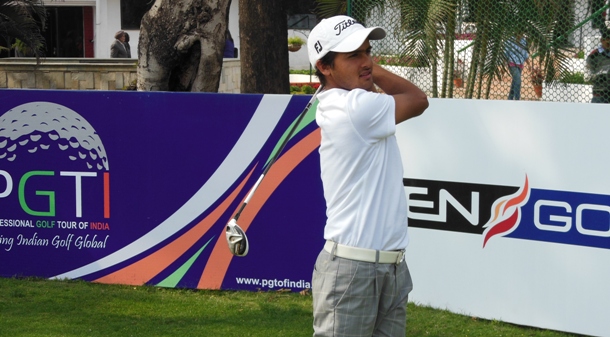 Kapurthala's Ashbeer Saini, Jaipur's Vishal Singh and Nur Hossain Sardar of Kolkata produced the opening day's best efforts of two-under-68 to take the early lead at the PGTI Feeder Tour event being played at the Lucknow Golf Club.
Delhi-based Bhanu Pratap Singh shot a one-under-69 to occupy fourth place in round one of the season's fifth and penultimate event.
Ashbeer Saini, who won his maiden title at the Feeder Tour event in Karnal last month, continued his top form as he sank five birdies in exchange for three bogeys.
The 24-year-old Saini, currently third on the Feeder Tour Order of Merit, thanks to his top-10s in all four events this season, was one-over through the first seven holes. However, two conversions from 15 to 25 feet on the eighth and 10th got his game up and running.
Thereafter, some quality iron-play ensured two more birdies for Ashbeer on the 12th and 13th. He dropped his third shot of the day on the 15thto close with a 68.
Saini said, "I'm playing at the Lucknow Golf Club for the first time so I'm quite happy with this start. I feel there is much more consistency in my game now and that gives me the opportunity to contend every week.
"Reading the greens will be the key at this course. The faster I adjust to the green speed the more chances I'll have of picking up strokes."
Nur Hossain Sardar has had a forgettable Feeder Tour season so far having posted just one top-20 in four starts. Sardar, however, looks set to turn it around as he submitted the only bogey-free card of the opening day. Nur Hossain made pars till the 13th and then enjoyed a late surge with birdies on the 14th and 16th.
Vishal Singh, a former winner on the PGTI, mixed four birdies with two bogeys to be part of the three-way tie at the top along with Saini and Sardar.
Bhanu Pratap Singh added two late birdies on the 16th and 18th to end the day just a shot behind the leaders.
Lucknow's Vijay Kumar made three birdies and three bogeys during his round of even-par-70 that placed him tied fifth along with four others.
One of the highlights of the day was Chandigarh lad Rajiv Kumar Jatiwal's spectacular albatross on the par-5 third where he holed his second shot, a five-iron, from a distance of 195 yards. Jatiwal's round of 74 placed him tied 35th.