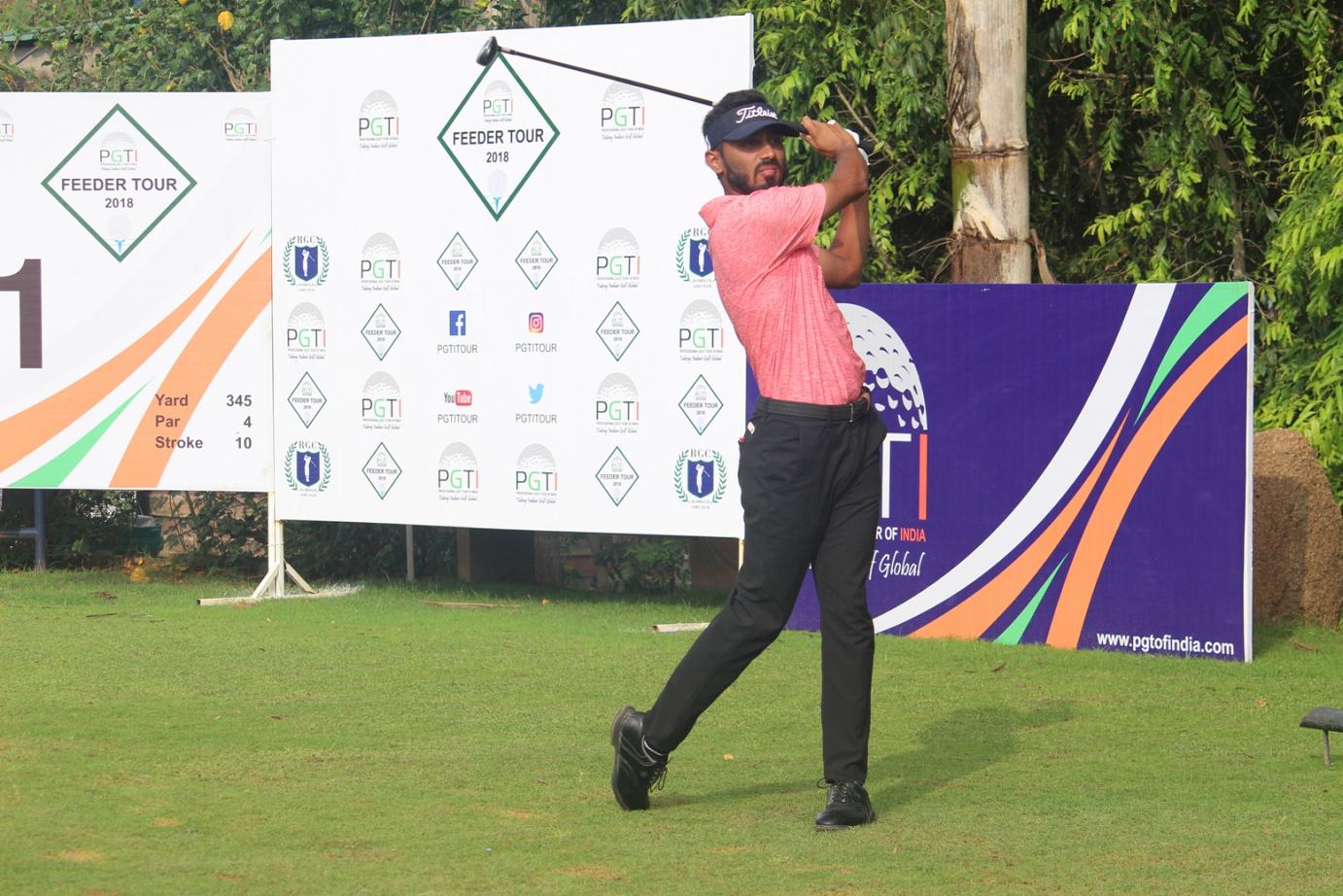 Arjun Sharma of Greater Noida secured his breakthrough win with a one-shot triumph at the PGTI Feeder Tour event played at the Rambagh Golf Club in Jaipur.
Sharma (66-67-69), the overnight leader by one shot, kept his composure to nail a decisive 10-foot birdie putt on the last hole on Thursday to record a wire-to-wire victory in spectacular fashion.
The 25-year-old Arjun, who hails from the Jaypee Greens Golf Course in Greater Noida, totaled eight-under-202 for the week as a result of his final round of one-under-69.
Bikramjit Singh Sandhu (66-71-66) registered the day's best score of four-under-66 to claim his second runner-up finish of the season at seven-under-203.
Arjun Sharma, who held the lead from the start of the tournament, had to scramble in the initial stages of his round for the second successive day as he made a couple of good up and downs for par from the bunkers.
Arjun finally hit his straps from the fourth hole onward. He earned his first birdie of the day on the seventh where he tapped-in from three feet. Sharma's 12-feet birdie conversion on the 12th was accompanied by bogeys on the 11th and 14th which pushed him back to even-par for the day.
Sharma, who turned professional in 2015, displayed nerves of steel at the end as he came through with a 10-feet birdie conversion on the last hole that saw him go one shot clear of nearest rival Bikramjit Singh Sandhu.
Arjun, who also had a top-10 at last week's Feeder Tour event in Karnal, has now climbed from 15th to fifth position in the PGTI Feeder Tour Order of Merit.
Sharma said, "It's great to have my first win after enduring a particularly tough 2017 season on the PGTI. My driving and putting were the highlights of my performance this week.
"The plan today was to focus on one shot at a time but I must admit that I felt the pressure on the last five to six holes as my playing partners Pawan Verma and Chandarjeet Yadav were playing quite well at that stage.
"The fact that Bikramjit was tied for the lead with me only came to my knowledge after I had completed the 17th hole. I then knew that I had to go for a birdie on the 18th. On the final putt, I just told myself to stroke it like I had done all week.
"I would like to thank the Jaypee Greens Golf Course for their support and my coach Jesse Grewal and my parents for their guidance and encouragement. This win gives me the self-belief to perform well on the main tour later this year."
Bikramjit Singh Sandhu, one of joint leaders in round one, had slipped to tied fifth after a 71 in the second round. However, on Thursday, Bikramjit came roaring back with his second score of 66 this week that lifted him to a second-place finish.
Sandhu, who spent over a year-and-a-half taking coaching in the United States between 2016 and 2018, scored five birdies and a bogey to make a late surge on the final day.
Bikramjit, currently fourth on the Feeder Tour Order of Merit, said, "I feel my stint in America has really helped my game. I know my swing better now.
"I've got on a consistent run on the Feeder Tour and have been playing the final rounds well. I hope to carry this form to the main tour."
Delhi's Pawan Verma (69) clinched third place at six-under-204 while Chandarjeet Yadav (71) of Panchkula finished a further shot behind in fourth.
Ashbeer Saini, the winner of last week's event in Karnal, took a share of fifth along with Lucknow's Manoj Kumar at three-under-207.
Gurugram-based Dhruv Sheoran, the winner of the season's first two events, finished in tied seventh at one-under-209 along with Jaipur's Hemendra Choudhary and Jalandhar's Victor Hans.
At the end of the fourth event of the season, Dhruv Sheoran continues to lead the money list with season's earnings of Rs. 2,28,627. Pawan Verma is placed a close second with earnings of Rs. 2,27,947.