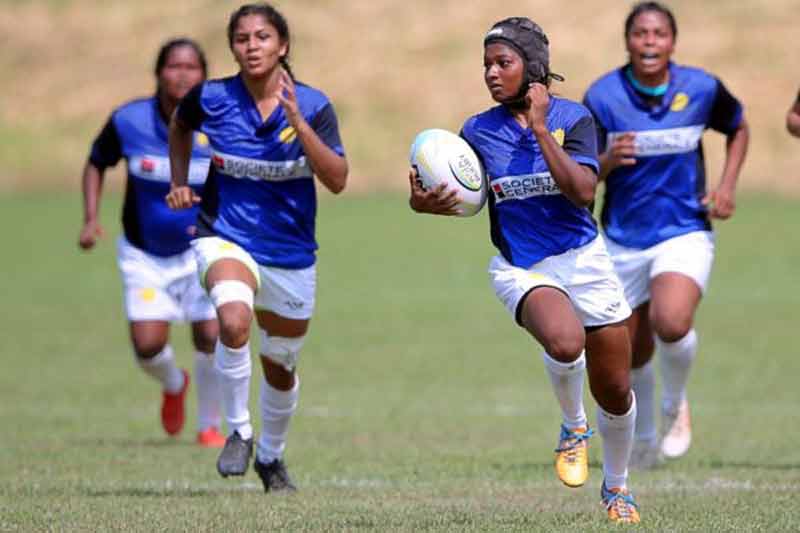 Manila, Philippines: Indian Women's Rugby team claimed a historic first-ever international Rugby 15s victory with a 21-19 win over Singapore and finished third in the Asia Women's - Division 1 Rugby XVs Championship. This tournament was one of the qualifier rounds for the 2021 Women's Rugby World Cup to be held in New Zealand. This Asian tournament was being held at Southern Plains Sports Field, Manila, Philippines from 19th June 2019 – 22nd June 2019.
The Indian team is supported by Societe Generale, the financial partner of Rugby India and is participating under the aegis of the Indian Rugby Football Union (IRFU), the governing body for the sport of Rugby in India.
In today's enthralling match against Singapore, India scrum-half Sumitra Nayak kicked a penalty to claim the narrow victory in the dying minutes. Sweety Kumari continued her fine form in the tournament, scoring two first-half tries to set India on the way to victory.
India's captain Vahbiz Bharucha then opted for a penalty which was successfully converted by Nayak before Annabel Woo Xui Ni scored her second try of the match to give Singapore the lead for the first time. Singapore hit back however with two tries of their own, but a third from India left the scores at 15-12.
However with another penalty, Sumitra Nayak confidently stepped up to kick her second penalty of the day, which proved decisive in the win.
The squad which played their international debut last year was led by captain Vahbiz Bharucha and played matches against Philippines and Singapore
On Wednesday, India lost against Philippines by 32 -27 and China defeated Singapore by 57-9. In today's match, India won against Singapore by 21-19 and secured third place in the tournament. And China won the cup by beating Philippines by 68-0.
DATE

VENUE

TEAM

Score

Vs

Score

TEAM

19th June, 2019

Southern Plain Field, Manila, Philippine

Singapore

7

Vs

59

China

19th June, 2019

India

32

Vs

27

Philippines

22nd June, 2019

Singapore

19

Vs

21

India

22nd June, 2019

China

68

Vs

0

Philippines
Speaking on the occasion Mahesh Mathai, Secretary General, Rugby India said, "We are proud of our women players for the first ever win in International Rugby XVs. Rugby India is thankful to Department of Sports and Youth Services, Government of Odisha and Societe Generale, Financial partner of Rugby India for supporting the National training camp at KIIT, Bhubaneswar."
"Women's Rugby XVs has grown leaps and bounds in India. From not having any women's rugby XVs being played as recent as 2 years ago to having over 35 Rugby XVs team playing competitively today. In 2018, the Union hosted three National level Rugby XVs tournaments for Women, namely the All India (Division I), the Callaghan Cup (Division II) and the All India Inter University Rugby (M&W) Championship" further he added.
Speaking on the team composition, Head Coach Hendrik 'Naas' Botha, said, " I am thrilled with the Indian players' surprising performance. Girls have demonstrated great passion, skills and commitment in this tournament. They really made our coaches' team proud with this win. It would be an honor to coach the Indian Women's team in the future."
The following 26 players from across India to represented the nation at the Asia Rugby Women's Championship (Div I) in Philippines.
| | |
| --- | --- |
| 1) Vahbiz Bharucha(Maharashtra)- Captain | 2) Neha Pardeshi (Maharashtra) – Vice Captain |
| 3) Himani Dutt (Delhi) | 4) Ramneek Kaur (Punjab) |
| 5) Hupi Majhi (Odisha) | 6) Laxmipriya Sahu (Odisha) |
| 7) Meerarani Hembram (Odisha) | 8) Subhalaxmi Barik (Odisha) |
| 9) Sumitra Nayak (Odisha) | 10) Parbati Kisku (Odisha) |
| 11) Rajani Sabar (Odisha) | 12) Lachmi Oraon (West Bengal) |
| 13) Asha Oraon (West Bengal) | 14) Chanda Oraon (West Bengal) |
| 15) Sangeeta Bera (West Bengal) | 16) Sweety Kumari (Bihar) |
| 17) Sweta Shahi (Bihar) | 18) Sheetal Sharma (Delhi) |
| 19) Namita Bhoj (Delhi) | 20) Priya (Delhi) |
| 21) Neha (Delhi) | 22) Priya Bansal (Delhi) |
| 23) Jyoti Choudhary (Delhi) | 24) Gohar Ara (Delhi) |
| 25) Shikha Yadav (Delhi) | 26) Sultana (Delhi) |
Head Coach- Hendrik 'Naas' Botha (South Africa)
Coach- Ludwiche van Deventer (South Africa)
Strength & Conditioning - Jannie Brooks (South Africa)
Manager- Rehmuddin Shaikh (Maharashtra)
Physio- Shabrez Mukaddam (Maharashtra)