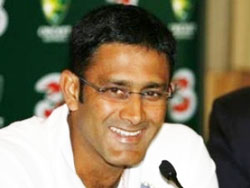 Bengaluru: In a first of it's kind meeting of the various stakeholders of Indian cricket aimed at chalking a roadmap for the immediate future, various issues were discussed to streamline the efforts of talking the game to new heights.
In addition to the head coach Anil Kumble, U-19 and India-A coach Rahul Dravid, limited overs and T20 captain MS Dhoni and his Test counterpart Virat Kohli, a few other prominent names in the administration and national coaching panel were also present in this all important meeting in Bengaluru to give their valuable inputs and together chalk out a blueprint for the immediate future.
The primary agenda of the meeting was to tackle issues pertaining to improving the bench strength, injury management, lack of quality spinners to back up the first choice spinners at times of physical distress and overload.
Skipper MS Dhoni who led a second string Indian side to series wins in ODIs and T20s against Zimbabwe shared his findings when asked about the young bunch he led in the African nation. In addition to this, the NCA batting coach WV Raman and the bowling coach Narendra Hirwani were asked to coordinate more closely with Rahul Dravid and ensure a quality pool of youngsters are sent to the former Indian skipper who is known to extract the best out of the youngsters through constant practice and sharing his wisdom from having represented India successfully across all formats.
Kumble said this practice would ensure that the future of Indian cricket was moulded to tackle crunch situations and bring laurels to the country in a sport which was ardently followed by millions of passionate fans.
When asked about the meeting, BCCI president Anurag Thakur said " The idea was to bring all the stakeholders on the same page as we draw the path for the upcoming season of Indian cricket. Based on their discussions and recommendations, BCCI will plan the future accordingly. This kind of brainstorming sessions will be a regular feature to streamline our efforts to take Indian cricket to new heights."
All one could say right now is that Kumble has put the right step forward and hope this reflects in the overseas results which forms the crux of his agenda.