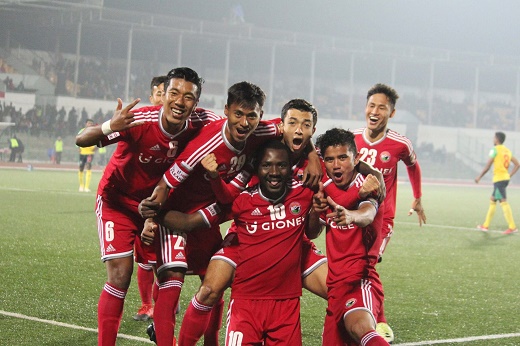 Mumbai: Yuta Kinowaki produced a late equaliser as Shillong Lajong FC held Mumbai FC to a 1-1 draw in an I-League football match at the Cooperage Stadium here on Sunday evening.
Mumbai took the lead almost immediately after the start when Victorino Fernandes found the net in the second minute with a powerful shot following a build up from the midfield.
However, Kinowaki (90th minute) scored in the final minute of regulation time to rescue a point for the visitors.
Lajong thus held on to the fifth spot on the league table with 25 points from 17 matches.
Mumbai, on the other hand, continue to languish in the relegation zone as they are second from bottom in the 10-team table with a mere 13 points from 17 matches.
They are almost sure to be relegated as with only one game left in their I-League campaign this season, even a victory will not enable them to go past eighth-placed Chennai City FC who have 17 points.
Mumbai FC played with fielded a 4-4-2 formation, their game play flowing mostly through the middle.
On the other hand, Shillong attempted to counter Mumbai's dominance through the middle by attacking through the wings. Shillong carved out a great chance early on when Yuta Kinowaki struck his half volley over the crossbar.
It looked an interesting strategy by Mumbai coach Oscar Bruzon, since he preferred to employ a counter-attacking style, since the hosts had speed on their side.
In the second half, Shillong, who lacked energy before the break, came out all guns blazing.
Yuta Kinawaki struck the crossbar and Mumbai goalkeeper Laxmikant Kattimani was lucky to not pick the ball out of his net.
Mumbai did not sit back to defend their narrow lead and played an open game which alllowed both sides to create chances, making the game attractive to the neutral spectator.
The hosts forced a chance of their own when Siam Hanghal's shot from distance was well saved by Lajong custodian Vishal Kaith.
Mumbai FC switched to a 4-3-3 attacking formation for the second half, and a 4-5-1 during their transition to defence.
Shillong lobbed cross after cross into the hosts' penalty box, but the Mumbai defence led by Mehrajuddin Wadoo and Pratik Chowdhury remained firm.
In the final minute of regulation time, Kinawaki, who had tormented the Mumbai defence throughout the game, managed to find space and slotted an unstoppable shot past Kattimani.