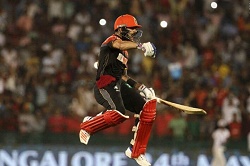 Raipur: Virat Kohli once again lead his team from the front and scored 54 off 45 balls to help Royal Challengers Bangalore beat Delhi Daredevils by six wickets at Shaheed Veer Narayan Singh International Stadium, Raipur, on Sunday. With this win RCB moved to second place in the IPL points table.
RCB skipper Virat Kohli, who was also Man of the Match said, "Those stats have reached me through images, because every game is a new game. We were at an impossible stage. Our focus has paid off. My focus is to take the team through. You have to start afresh today, it sounds boring but that's the way it is. To have discipline, you need to be boring. You need to make every day count. When I come onto the field, this was what I was born to do."

"Very important not to get rude or arrogant when you are in form. All about keeping that thin line between confidence and overconfidence. People have given me a lot of love since the Australia series. Our bowling unit has done exceptionally well. It was a 160-par wicket. Hats off to the bowlers."
Meanwhile, Delhi Daredevils captain Zaheer Khan said that it has been a wonderful campaign. "We've been playing good cricket. With this kind of side, we have given a tough time to all sides. Happy with the way things have panned out for us. 160 would have been dependable. When someone like Virat is there, he is so good at absorbing pressure. In a way, we felt one knock, one partnership was critical here. We couldn't get going, but these things happen. I haven't really thought about my future. Still enjoy being out there."