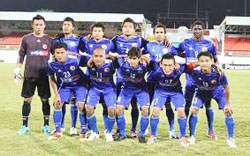 Pune: Mumbai FC who are the bottom of the league standings for quite some time has an ardous task of lifting up their game and morale if they hope to save themselves from relegation with only four league matches remaining in football I-League.

Up against Shillong Lajong FC, a side that shocked East Bengal in February, Mumbai FC has a lot of work to do if they hope to stop the Meghalaya side in the 23rd round match at the Balewadi Sports Complex Stadium here Wednesday.

With 17 points from 22 matches, Mumbai FC are in the relegation zone given that Chirag United Kerala too has same points but a better goal difference and have played a game less.

Also, Mumbai FC will remember their loss against Lajong in the away tie when they were forced to suffer logistical problems when the Meghalaya side hosted them in Guwahati as their ground in Shillong was under prepared.

No doubt Mumbai FC has some quality players, but for reasons beyond comprehension, strikers Gbeneme Friday and Ebi Sukore haven't had a good run since the league restarted in the last week of March.

Strikers Cavin Lobo and Abhishek Yadav have done their bit, but the support they need to execute Jamil's plan has been lacking from both fronts. Midfielders Keegan Pereira and Faizal Rehman have been modest, while in the defence, Mumbai FC has depended on L Dhanachandra Singh and Haroon Fakhruddin.

In their last outing against East Bengal, Mumbai further plunged to a morass when they were beaten 1-3 by Kolkatans even as the Mumbai FC had taken early and ambitious lead.

The only respite that Mumbai can think of before taking on Lajong is that even the Meghalaya outfit has not been up to their best, also losing their two matches, first to bottom-scrappers Chirag United and then to Sporting Clube de Goa.

Lajong stays at 27 points from 22 matches, well clear of the relegation zone, and should they post a favourable result, the Meghalaya team will certainly save itself for the season, but in effect will cause a huge dent to Mumbai FC's aspirations.
By Indian Sports News Network