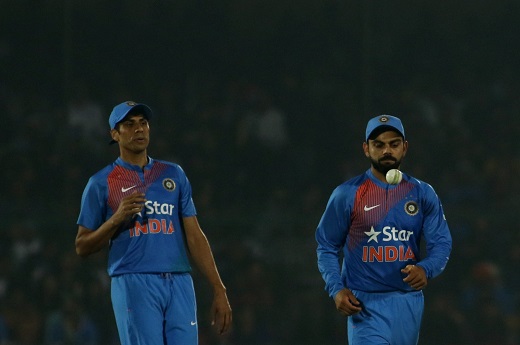 After an international career that lasted 18 years, Ashish Nehra completed a 360 degree turn. He might have bowled several tense last overs in his career but when he bowled his last over of any form of competitive cricket precisely from the same end from where he had started, it was an emotional moment, as one of India's great left arm seamer was going to hang his boot. After India's first ever victory against the New Zealand Team in the T20 format, Nehra donned a smile that could only have come after the completion of a career as satisfactory as his. Nehra was clearly not the most gifted bowlers that India has ever produced and neither do numbers tell the story of his start-stop international career since Nehra's career was not at all as straightforward as Nehra ji. It had its own twists and turns.
One of the few memories of Ashish Nehra's career was the episode when he cursed MS Dhoni and Rahul Dravid when either of them failed to go for a catch that Nehra produced of the bat of Shahid Afridi in 2005. 12 years later, Nehra played his last international match, Dhoni, the captain came conquered and went away and is back to being only a wicketkeeper after the 2005 incident.
In his last match, Nehra produces a catch for MS behind the stumps, dropped. Then to Kohli, dropped. Nehra doesn't react, not because he is conscious of his future media career but eventually the sport which has given him everything has made him a matured individual. This is also not the same time as 2005, not the same opposition either. India has hardly put a foot wrong under Virat Kohli's captaincy winning series after series. The oppositions are not as competitive as arch rival Pakistan in those times and India is a much stronger force in world cricket. Back then opportunities lost meant the match gone, but now he knows that chances will come again and India can get back into the match. Add to that, India have two of the best limited-overs fast bowlers in the world in their side at present and India is a much improved fielding unit than they were in 2005. Nehra would surely be a happy man to leave the team and the sport to such players who have raised the bar high.
Nehra expressed his desire to come back as a coach or a commentator. But even if there is no vacancy as a coach, teams would be more than willing to have him as a mentor or a member of the support staff for his perspective on various issues in sport and advise the young cricketers on the ups and downs of life in general and cricketing career in particular. More than anything else Ashu Bhai would be remembered for the character he was on the field and the human he is off the field. Farewell Nehra ji!