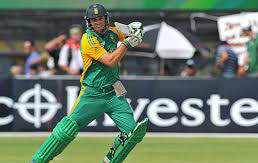 Headingley: South Africa One-Day International (ODI) skipper AB de Villiers on Thursday said he is desperate to win the ICC Champions Trophy and that the Proteas are a very good team this time.
"I haven't won one of these trophies in my career, so I'm pretty desperate to win one, and we'll do anything we can to get out on top.," De Villiers was quoted as saying by www.ecb.co.uk.
"We know these tournaments are very competitive - there are eight teams that want to win it and can win it. But we do think we've got a very good squad here. I've got a good feeling about this one," he added.
South Africa will take part in a three-match Royal London ODI Series against England starting at Headingley next Wednesday.
"It's a very nice way for us to warm up and get ready for a big one-day tournament," de Villiers said after the Proteas had their first practice in Hove.
"But first things first, we want to win the series against England, a team that's been playing very good one-day cricket in their own country. They've done really well to come back from the 2015 World Cup. They're obviously a very talented bunch, and they've earned a lot of respect.
"They will be one of the favourites for the Champions Trophy definitely, but quite a few teams stand out - India won the last Champions Trophy, and the Aussies are always a team to look out for," he added.
Taking a break from Test cricket, the explosive right-hander who played for Royal Challengers Bangalore in the ongoing Indian Premier League, had an elbow operation last autumn but returned for South Africa's white-ball matches in New Zealand earlier this year.
"I started the IPL very well and felt in good touch throughout the tournament, but we never got going as a team as a whole," he said.
"It was a poor IPL for us, but that's long gone now. I'm very excited to be back with the South Africa team. I had a good net session this morning - I faced Imran Tahir, and he's certainly stepped up his game a bit.
"I'm feeling fresh, feeling 100%, and looking forward to playing this series and then the tournament," he added.