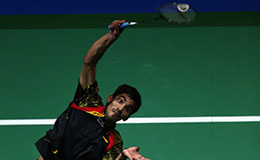 Penang: India's K. Srikanth, the second seed, had no problem against Chinese Huang Yuxiang to win 21-15, 21-14 for a place in the last four. In the semi-finals Srikanth will face Iskandar while Chong Wei will take on Indonesia's Tommy Sugiarto.
Meanwhile India's PV Sindhu beat Lindaweni Fanetri (Ina) 21-10, 21-10 to cruise into Women's semi-final.
Chong Wei who is the top seed and favourite to win his first international title beat India's Ajay Jayaram with a 21-16, 21-16 win.
Tommy, seeded third in Penang, defeated China's Qiao Bin 21-6, 21-17 in 42 minutes.
The eighth seeds Peng Soon-Liu Ying defeated Indonesia's Hafiz Faisal-Shella Devi Aulia 21-13, 21-18 while Kian-Meng-Pei Jing won 21-10, 21-15 against Japan's Keigo Sonoda-Naoko Fukuman.
However it was the end of Malaysia's No 1 men's doubles pair Goh V Shem-Tan Wee Kiong when they lost their quarter-final match against Japan's Takeshi Kamura-Keigo Sonoda. The Japanese won 22-24, 21-16, 21-16 in 58 minutes.
But independent pair Koo Kien Keat-Tan Boon Heong stayed alive with a 21-16, 20-22, 21-13 win over another Japanese pair Hiroyuki Saeki-Ryota Taohata.
QUARTER-FINAL RESULTS
Men's singles
Iskandar Zulkarnain Zainuddin (Mas) beat Angus Ng Ka Long (Hkg) 21-11, 21-15
K. Srikanth (Ind) beat Huang Yuxiang (Chn) 21-15, 21-14
Datuk Lee Chong Wei beat Ajay Jayaram (Ind) 21-16, 21-16
Tommy Sugiarto (Ina) beat Qiao Bin (Chn) 21-6, 21-17
Men's doubles
Gideon Markus Fernaldi-Kevin Sanjaya Sukamuljo (Ina) beat Lee Sheng-mu-Tsai Chia-hsin (Tpe) 15-21, 22-20, 21-13
Koo Kien Keat-Tan Boon Heong (Mas) beat Hiroyuki Saeki-Ryota Taohata (Jpn) 21-16, 20-22, 21-13
Kim Gi-jung-Kim Sa-rang (Kor) beat Vladimir Ivanov-Ivan Sozonov (Rus) 23-21, 21-19
Takeshi Kamura-Keigo Sonoda (Jpn) beat Goh V Shem-Tan Wee Kiong (Mas) 22-24, 21-16, 21-16
Women's singles
Venkata Sindhu (INd) beat Lindaweni Fanetri (Ina) 21-10, 21-10
Sung Ji-hyun (Kor) beat Sayaka Sato (Jpn) 13-21, 21-18, 21-11
Yui Hashimoto (Jpn) beat Bae Yeon-ju (Kor) 13-21, 21-18, 21-11
Kirsty Gilmour (Sco) beat Busanan Ongbumrungphan (Tha) 21-19, 21-10

Women's doubles
Misaki Matsutomo-Ayaka Takahashi (Jpn) beat Shizuka Matsuo-Mami Naito (Jpn) 21-18, 19-21, 21-14
Tang Yuanting-Yu Yang (Chn) beat Naoko Fukuman-Kurumi Yanao (Jpn) 24-22, 21-15
Chang Ye-na-Lee So-hee (Kor) beat Shiho Tanaka-Koharu-Yonemoto (Jpn) 21-12, 17-21, 21-12
Du Yue-Li Yinhui (Chn) beat Yuki Fukushima-Sayaka Hirota (Jpn) 21-16, 21-17

Mixed Doubles
Tan Kian Meng-Lai Pei Jing (Mas) beat Keigo Sonoda-Naoko Fukuman (Jpn) 21-10, 21-5
Zheng Siwei-Li Yinhui (Chn) beat Shin Baek-choel-Chae Yoo-jung (Kor) 21-17, 16-21, 21-19