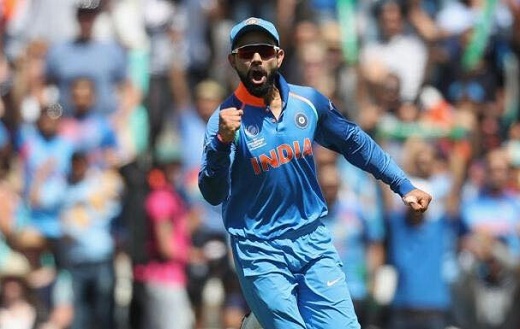 India host Australia for five ODIs from 17 September to 1 October, a series that gives both sides a chance to go atop the rankings table currently led by South Africa with 119 points.
India and Australia are both on 117 points with Australia ahead on decimal points. A win for either side by a margin of 4-1 or better will see it move to number one position.
India v Australia series scenarios:
India beats Australia 5-0 – India 122, Australia 113
India beats Australia 4-1 – India 120, Australia 114
India beats Australia 3-2 – India 118, Australia 116
Australia beats India 3-2 – Australia 118, India 116
Australia beats India 4-1 – Australia 120, India 114
Australia beats India 5-0 – Australia 122, India 112
Meanwhile, The Windies side has an arduous task of trying to qualify direct for the ICC Cricket World Cup 2019 as it braces for an upcoming one-off ODI against Ireland in Belfast on 13 September and a five-match ODI series against England from 19 to 29 September.
The Windies side is currently on 78 points in the MRF Tyres ICC ODI Team Rankings, eight points behind eighth-placed Sri Lanka, whom it will need to overtake in order to qualify. The top seven ODI sides apart from host England as on 30 September qualify direct for ICC's pinnacle 50-over event, which will take place from 30 May to 15 July 2019 in the United Kingdom.
The 1975 and 1979 champion side will have to beat Ireland and then also defeat England either 5-0 or by a 4-1 margin in which it wins the last four matches. In other words, losing any match other than the opening match against England at Old Trafford on 19 September will allow Sri Lanka a direct passage.
Teams not getting direct places in the ICC Cricket World Cup 2019 will get another shot through a Qualifying tournament.
The ICC Cricket World Cup Qualifier 2018 will feature the bottom four sides from the MRF Tyres ICC ODI Team Rankings, the top four sides from the ICC World Cricket League Championship and the top two sides from ICC World Cricket League Division 2. The top two sides from the World Cup Qualifier will complete the 10-team line-up for the ICC Cricket World Cup 2019.
As for fourth-placed England, it will be able to gain a maximum of one point and reach 114 points, even if it wins the series 5-0. On the other hand, a 5-0 series loss will see it go down to fifth position and 106 points.
MRF Tyres ICC ODI Team Rankings (as on 11 September, before Windies' one-off ODI against Ireland and series against England; India v Australia series):

Rank Team Points
1. South Africa 119
2. Australia 117
3. India 117
4. England 113
5. New Zealand 111
6. Pakistan 95
7. Bangladesh 94
8. Sri Lanka 86
9. West Indies 78
10. Afghanistan 54
11. Zimbabwe 52
12. Ireland 41
---