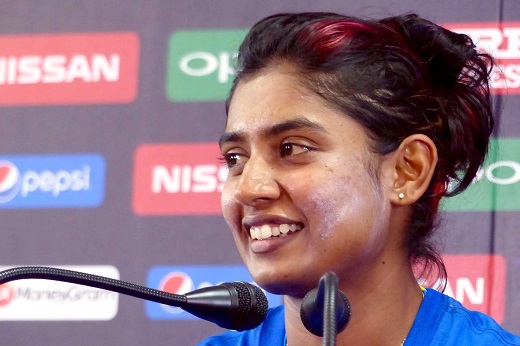 The top players of the world will be seen in action at the ICC Women's World Cup 2017, which apart from team glory, will also give players the chance to enhance their ranking points in a long league format which will see all eight teams play each other.
The 24 June to 23 July tournament, which will be held across five venues in the United Kingdom, could see several changes in individual rankings as 28 league matches and the two semi-finals and final provide players from the world a huge platform.
Defending champion and six-time winner Australia's campaign will be led by captain Meg Lanning, who tops the batters' list in the MRF Tyres ICC Women's ODI Player Rankings by a comfortable margin of 51 points over India captain Mithali Raj.
Lanning, who is the only player to have scored 10 ODI centuries and averages over 50 in the format, will get a chance to consolidate her position at the top as Elysse Perry and Alex Blackwell will be aiming to improve their rankings of sixth and seventh, respectively.
Left-arm spinner Jess Jonassen will be the highest-ranked Australia bowler in the tournament at a career-best fifth position while pace bowlers Ellyse Perry (ninth) and Megan Schutt (20th) are the others among the top 20.
For three-time winner England, which has won the World Cup both times it has hosted it – in 1973 and 1993 – captain Heather Knight leads the batting line-up in 11th position while Sarah Taylor (12th) and Natalie Sciver (15th) will be looking to close in on the top 10.
Pace bowler Katherine Brunt (fourth) will be hoping to leapfrog India's Jhulan Goswami, who is just five points ahead of her at 611 points. Off-spinners Danielle Hazell (14th) and Laura Marsh (15th) are at 510 and 509 points, respectively, and with a chance to move up as they are in a cluster that has another three other bowlers within three points.
For India, former number one batter Raj and Harmanpreet Kaur (ninth) remain the top names but the progress of left-handed opener Deepti Sharma (23rd) will be keenly watched after her epic 320-run stand with Poonam Raut against Ireland last month, which is the highest partnership in women's ODIs.
Among bowlers, Goswami, who became the highest wicket-taker in ODIs after surpassing Cathryn Fitzpatrick's total of 180 wickets, will be looking to move up from her third position while left-arm spinners Ekta Bisht (sixth) and Rajeshwari Gayakwad (13th) will face the challenge of bowling well in English conditions.
New Zealand, the 2000 champion, boasts two batters with solid credentials among the top four. Amy Satterthwaite, who last year scored four successive ODI centuries, is ranked third, while captain Suzie Bates too has a huge reputation as she was the leading run-scorer in the ICC Women's World Cup 2013.
Pace bowler Lea Tahuhu (11th) will be looking to break into the top 10 while leg-spinner Erin Bermingham will be featuring in her first ICC Women's World Cup after reasonable success in three ICC Women's World Twenty20 championships.
Pakistan captain Sana Mir is the most high-profile player from her side at eighth position among bowlers with left-arm spinner Sadia Yousaf (23rd) another experienced campaigner. The pair of Javeria Wadood (17th) and Bismah Maroof (18th) will be expected to shoulder the team's batting responsibilities.
For Sri Lanka, captain Inoka Ranaweera and former captain Chamari Athapaththu are both ranked 24th among bowlers and batsmen, respectively, and would be hoping to inspire their team to some surprise wins after beating Pakistan in the ICC Women's World Cup Qualifier 2017 held in Colombo in February.
South Africa has the satisfaction of seeing Marizanne Kapp at the top of the bowlers' list, with Shabnim Ismail in 10th position. Lizelle Lee (10th), who partnered in a record 163-run opening stand with Dane van Niekerk in the ICC Women's World Twenty20 2014 match against Pakistan but is in her first World Cup, is the top-ranked batter from her side with Mignon de Preez (13th) and Chloe Tryon (14th) not too far behind.
For the West Indies, captain Stafanie Taylor is the big star, currently ranked second among bowlers, fifth among batters and the top all-rounder with a massive lead of 57 points over Elysse Perry of Australia.
Deandra Dottin (eighth) among batters and Anisa Mohammed (seventh) among bowlers will be others whose rankings will be watched with interest as the reigning ICC Women's World Twenty20 champion and last time's runner-up side will be looking to do one better this time.
There are no separate ODI team rankings for women but the results of the ICC Women's World Cup will have a bearing on the Women's Team Rankings, which are a combination of ODI and Twenty20 International results.
Australia leads the table currently with 128 points. It could be overtaken by England (122 points) if the host wins all its matches and Australia also loses to New Zealand and the West Indies or fares worse. New Zealand is placed third with 119 points while India (111) is not far behind. South Africa is on 91 points, Pakistan on 76 and Sri Lanka on 67 points.
MRF Tyres ICC Women's ODI Rankings (as on 22 June 2017, before the ICC Women's World Cup)
Top 20 batters
Rank Player Team Points Avge Highest Rating
1 Meg Lanning Aus 807 52.37 834 v NZ at Bay Oval 2016
2 Mithali Raj Ind 756 52.08 839 v Aus at Baroda 2004
3 A. Satterthwaite NZ 733 37.59 756 v Aus at Bay Oval 2017
4 Suzie Bates NZ 694 41.08 775 v Aus at Bay Oval 2016
5 Stafanie Taylor WI 687 44.42 765 v Ind at St Kitts 2012
6 Ellyse Perry Aus 681 47.47 730 v SA at Canberra 2016
7 Alex Blackwell Aus 623 34.91 683 v Ind at Canberra 2008
8 Deandra Dottin WI 583 27.82 650 v NZ at Kingston 2013
9 H. Kaur Ind 562 34.00 679 v SA at Bangalore 2014
10 Lizelle Lee SA 560 29.14 646 v Ban at Cox's Bazar 2017
11 Heather Knight Eng 539 32.58 563 v SL at Colombo (RPS) 2016
12 Sarah Taylor Eng 534 39.76 803 v Aus at Chelmsford 2009
13 M. du Preez SA 530 31.72 553 v Aus at Canberra 2016
14 Chloe Tryon SA 528 23.25 532 v Ire at Potchefstroom (N 2017
15 Natalie Sciver Eng 527*! 44.05 527 v SL at Colombo (RPS) 2016
16 Trisha Chetty SA 520 32.42 585 v Ire at Malahide 2016
17 Javeria Wadood Pak 513 30.60 573 v SA at Sharjah 2015
18 Bismah Maroof Pak 507 26.56 570 v NZ at Lincoln 2016
19 D.van Niekerk SA 494 32.85 547 v Ind at Colombo (PSS) 2017
20 Nicole Bolton Aus 490* 41.89 525 v SA at New South Wales 2016
Top 20 bowlers
Rank Player Team Points Avge Eco. Highest Rating
1 Marizanne Kapp SA 665 25.86 3.55 689 v Ind at Potchefstroom (N 2017
2 Stafanie Taylor WI 636 18.66 3.09 768 v NZ at Kingston 2013
3 Jhulan Goswami Ind 611 21.70 3.19 796 v Eng at Chennai 2007
4 Katherine Brunt Eng 606 21.86 3.35 796 v Ind at Mumbai 2013
5 Jess Jonassen Aus 598*! 22.28 4.09 598 v NZ at Bay Oval 2017
6 Ekta Bisht Ind 586*! 19.53 3.34 586 v SA at Potchefstroom 2017
7 A. Mohammed WI 577 18.58 3.30 704 v Aus at Sydney 2014
8 Sana Mir Pak 569 26.61 3.61 610 v SA at Sharjah 2015
9 Ellyse Perry Aus 558 24.34 4.33 698 v Ind at Mumbai 2012
10 Shabnim Ismail SA 543 19.67 3.50 641 v Eng at Johannesburg 2016
11 Lea Tahuhu NZ 514* 32.15 4.20 529 v Aus at Auckland 2017
12 Morna Nielsen NZ 512* 26.75 3.61 586 v SA at Paarl 2016
13 R. Gayakwad Ind 511* 16.29 3.24 540 v SL at Colombo (PSS) 2017
14 Danielle Hazell Eng 510* 29.08 3.78 545 v NZ at Lincoln 2015
15 Laura Marsh Eng 509 26.28 3.79 711 v Aus at Perth 2011
16 Shikha Pandey Ind 491*! 18.64 3.59 491 v SA at Potchefstroom 2017
17 Jenny Gunn Eng 484 27.61 3.77 693 v Ind at Scarborough 2014
18 A. Khaka SA 477* 28.20 3.97 498 v Ind at Colombo (PSS) 2017
19 D. van Niekerk SA 469 18.76 3.52 583 v Ind at Bangalore 2014
20 Megan Schutt Aus 455* 25.30 4.42 529 v SL at Dambulla 2016
Top 10 all-rounders
Rank Player Team Points Highest Rating
1 Stafanie Taylor WI 437 559 v NZ at Kingston 2013
2 Ellyse Perry Aus 380 446 v NZ at Bay Oval 2016
3 Marizanne Kapp SA 313 328 v Ire at Potchefstroom 2017
4 Suzie Bates NZ 279 336 v Aus at Bay Oval 2016
5 A. Satterthwaite NZ 275 /* 287 v Aus at Bay Oval 2017
6 D. van Niekerk SA 232 284 v Ind at Colombo (PSS) 2017
7 Heather Knight Eng 207 /* 228 v SL at Colombo (RPS) 2016
8 Jhulan Goswami Ind 206 308 v Aus at Canberra 2016
9 Sune Luus SA 202*/*! 202 v Ind at Potchefstroom 2017
10 Deepti Sharma Ind 197*/*! 197 v SA at Potchefstroom 2017
MRF Tyres ICC Women's ODI Rankings (as on 22 June 2017, before the ICC Women's World Cup) Top 20 batters Rank Player Team Points Avge Highest Rating 1 Meg Lanning Aus 807 52.37 834 v NZ at Bay Oval 2016 2 Mithali Raj Ind 756 52.08 839 v Aus at Baroda 2004 3 A. Satterthwaite NZ 733 37.59 756 v Aus at Bay Oval 2017 4 Suzie Bates NZ 694 41.08 775 v Aus at Bay Oval 2016 5 Stafanie Taylor WI 687 44.42 765 v Ind at St Kitts 2012 6 Ellyse Perry Aus 681 47.47 730 v SA at Canberra 2016 7 Alex Blackwell Aus 623 34.91 683 v Ind at Canberra 2008 8 Deandra Dottin WI 583 27.82 650 v NZ at Kingston 2013 9 H. Kaur Ind 562 34.00 679 v SA at Bangalore 2014 10 Lizelle Lee SA 560 29.14 646 v Ban at Cox's Bazar 2017 11 Heather Knight Eng 539 32.58 563 v SL at Colombo (RPS) 2016 12 Sarah Taylor Eng 534 39.76 803 v Aus at Chelmsford 2009 13 M. du Preez SA 530 31.72 553 v Aus at Canberra 2016 14 Chloe Tryon SA 528 23.25 532 v Ire at Potchefstroom (N 2017 15 Natalie Sciver Eng 527*! 44.05 527 v SL at Colombo (RPS) 2016 16 Trisha Chetty SA 520 32.42 585 v Ire at Malahide 2016 17 Javeria Wadood Pak 513 30.60 573 v SA at Sharjah 2015 18 Bismah Maroof Pak 507 26.56 570 v NZ at Lincoln 2016 19 D.van Niekerk SA 494 32.85 547 v Ind at Colombo (PSS) 2017 20 Nicole Bolton Aus 490* 41.89 525 v SA at New South Wales 2016 Top 20 bowlers Rank Player Team Points Avge Eco. Highest Rating 1 Marizanne Kapp SA 665 25.86 3.55 689 v Ind at Potchefstroom (N 2017 2 Stafanie Taylor WI 636 18.66 3.09 768 v NZ at Kingston 2013 3 Jhulan Goswami Ind 611 21.70 3.19 796 v Eng at Chennai 2007 4 Katherine Brunt Eng 606 21.86 3.35 796 v Ind at Mumbai 2013 5 Jess Jonassen Aus 598*! 22.28 4.09 598 v NZ at Bay Oval 2017 6 Ekta Bisht Ind 586*! 19.53 3.34 586 v SA at Potchefstroom 2017 7 A. Mohammed WI 577 18.58 3.30 704 v Aus at Sydney 2014 8 Sana Mir Pak 569 26.61 3.61 610 v SA at Sharjah 2015 9 Ellyse Perry Aus 558 24.34 4.33 698 v Ind at Mumbai 2012 10 Shabnim Ismail SA 543 19.67 3.50 641 v Eng at Johannesburg 2016 11 Lea Tahuhu NZ 514* 32.15 4.20 529 v Aus at Auckland 2017 12 Morna Nielsen NZ 512* 26.75 3.61 586 v SA at Paarl 2016 13 R. Gayakwad Ind 511* 16.29 3.24 540 v SL at Colombo (PSS) 2017 14 Danielle Hazell Eng 510* 29.08 3.78 545 v NZ at Lincoln 2015 15 Laura Marsh Eng 509 26.28 3.79 711 v Aus at Perth 2011 16 Shikha Pandey Ind 491*! 18.64 3.59 491 v SA at Potchefstroom 2017 17 Jenny Gunn Eng 484 27.61 3.77 693 v Ind at Scarborough 2014 18 A. Khaka SA 477* 28.20 3.97 498 v Ind at Colombo (PSS) 2017 19 D. van Niekerk SA 469 18.76 3.52 583 v Ind at Bangalore 2014 20 Megan Schutt Aus 455* 25.30 4.42 529 v SL at Dambulla 2016 Top 10 all-rounders Rank Player Team Points Highest Rating 1 Stafanie Taylor WI 437 559 v NZ at Kingston 2013 2 Ellyse Perry Aus 380 446 v NZ at Bay Oval 2016 3 Marizanne Kapp SA 313 328 v Ire at Potchefstroom 2017 4 Suzie Bates NZ 279 336 v Aus at Bay Oval 2016 5 A. Satterthwaite NZ 275 /* 287 v Aus at Bay Oval 2017 6 D. van Niekerk SA 232 284 v Ind at Colombo (PSS) 2017 7 Heather Knight Eng 207 /* 228 v SL at Colombo (RPS) 2016 8 Jhulan Goswami Ind 206 308 v Aus at Canberra 2016 9 Sune Luus SA 202*/*! 202 v Ind at Potchefstroom 2017 10 Deepti Sharma Ind 197*/*! 197 v SA at Potchefstroom 2017