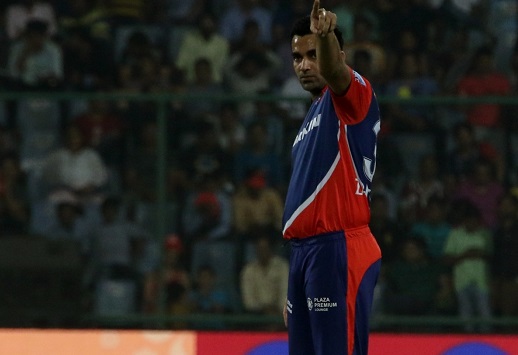 Kolkata: The next nine days will be make or break for struggling Indian Premier League (IPL) franchise Delhi Daredevils, skipper Zaheer Khan said on Thursday ahead of their game against table-toppers Kolkata Knight Riders (KKR).
Delhi are languishing at seventh in the points table with just four points in their kitty from six matches.
Starting Friday, they play Kings XI Punjab (April 30), Sunrisers Hyderabad (May 2), Gujarat Lions (May 4) and Mumbai Indians (May 6) with the last three matches at home.
"We need a winning momentum. In the next nine days, we are playing five matches. It is a very important phase. If we can string a winning momentum in this phase, things will change by May 6," Zaheer said on the eve of their tie against Kolkata, who are in scintillating form having coasted to two victories against Royal Challengers Bangalore and Rising Pune Supergiant.
"It's very important that we look at this phase as nine days rather than just tomorrow's game. Next nine days will define the season for us," the 38-year old left-arm pacer said.
Asked about their opponents' rollicking form and whether the defeat at the hands of KKR after getting into an advantageous position in their first meeting is a physiological setback, Zaheer said it won't matter at all.
"Loss to KKR is not a physiological setback. We have not played that many gams in the tournament," Zaheer said.
The veteran pacer said fit-again Mohammed Shami is not being played because of team combination.
"He is absolutely fit. Nothing is wrong with him. There are so many big players not getting a chance. Shami has done so well for India and will continue doing so. Sometimes you get caught up with team combination," he said.
Backing his team to deliver the goods at the business end of the season, Zaheer said the young talent at Delhi's disposal is fantastic.
"If we could have converted two wins out of those close games, the same looking at the team would have changed," the skipper said.
"Overall the potential we have as a unit is amazing. We have got some amazing young talent and it just needs little bit of confidence and that does comes with winning. These five games are very crucial for our campaign. I'm confident our guys will deliver when it matters," he added.
On their rivals, Zaheer said: "It's a very good challenge. They have been good chasing and batting really well.
"KKR are a stable side. They have won few tournaments as well. Someone like Gautam Gambhir is a good leader. He has got his plans sorted. As a team, they look very stable," Zaheer added.