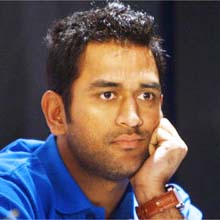 Batsmen have dominated all forms of cricket, including its shortest format – the T20. Even IPL has been successful because these batsmen. Though some big names will be missing in this year's IPL season 10, then also there are many good and world class batsmen who can entertain us with their flawless batting
IPL season 10 is starting on April 5, 2017 and we bring before you the batsmen to watch out for in this season:
MS Dhoni (Rising Pune Supergaints): This man has led the team from the first season of IPL. But now he will play purely as a wicketkeeper-batsman for the first time in his IPL career. Dhoni is free from the captaincy responsibility and therefore fans can see vintage Dhoni again. He is the player to watch out for in this season of IPL.
Steve Smith (Rising Pune Supergaints): The new captain of RPS team will be under pressure from match number 1. He has replaced Captain Cool MS Dhoni. Smith's batting, fielding and captaincy will be at test. He is a great player but he needs to pass this stern test in IPL season 10.
Glenn Maxwell (Kings XI Punjab): He is the new captain of KXIP this season. Like his mate Steve Smith, Maxwell will also have to pass this test. Maxwell hasn't captained any team before this. So in these conditions Maxwell will be a player to watch out for.
Gautam Gambhir (Kolkata Knight Riders): The most consistent batsmen for KKR over these years, Gambhir has been the go to man for them. With experience and loads of runs under his belt, GG will be a danger man for opposition teams.
Robbin Uthappa (Kolkata Knight Riders): Robin Uthappa has been one of the most dominant players for KKR. Apart from his batting, Uthappa has been good with his wicket keeping skills too. In this season, Robin Uthappa will the player to watch out for.
David Warner (Sunrisers Hyderabad): Warner had a great season last year. He helped Sunrisers Hyderabad win the title. He is a good leader and has been the most destructive opener in T20s. Can he repeat this feat again is the only question that is coming on everyone's mind?
Rohit Sharma (Mumbai Indians): Rohit Sharma has been the MR. Consistent of IPL for over the years. But off late he was out of international cricket due to injury. It will be interesting to see how he would perform in this season.
Dwayne Smith (Gujarat Lions): The destructive West Indian batsman was the reason behind West Indies winning the T20 World Cup twice. He is a terrific opening batsman and Gujarat Lion would need him to win matches for them. He can provide excellent starts in quick time and can bowl some useful over in the middle too.
Ajinkya Rahane (Rising Pune Supergaints): This man can bat at any position. He is the complete team man. This year Rahane will be playing under different captain. It will be seen that how Rahane adjusts his game for Skipper Steve Smith. It will be a test of character for Steve Smith and for Ajinkya Rahane. Rahane will be the player to watch out for in this IPL 10 tournament.
Jos Buttler (Mumbai Indians): The destructive wicket keeper batsmen , Jos Buttler is the man for Mumbai Indians. This T20 format suits him for his naturally attacking style of batting. He can be even more dangerous in last 3 to 5 overs. He can be the next big thing in IPL and he is the player to watch out for in this IPL season