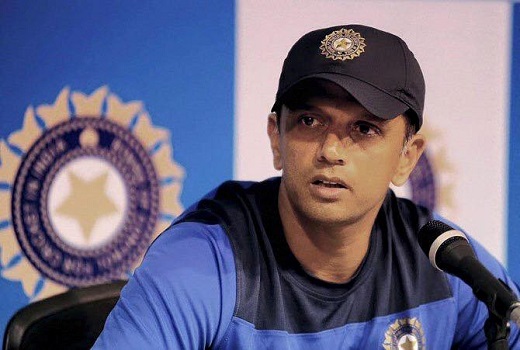 New Delhi: Delhi Daredevils coach Rahul Dravid is hopeful that his team will start their campaign in the 2017 edition of the Indian Premier League (IPL) on a positive note.
Dravid started the first day of training for the 2017 season with a session at the Delhi Daredevils Academy in Palam Vihar. He met the trainees at the academy and interacted with them for close to 90 minutes.
The former India captain shared invaluable ideas with the trainees and provided them with advice to deal with match situations.
Dravid was thoroughly impressed with the trainees.
"Having been through those situations myself, it is always exciting to see new talents. They always have questions about the game and situations," he said.
With a big season ahead, Dravid will begin interactions with the full squad in the coming days. He was hopeful of continuing to build on the performances in the previous season. The side has dealt with the absence of senior stars like Jean-Paul Duminy due to personal reasons and wicket-keeper batsman Quinton de Kock due to an injury.
"It is obviously a big blow when you lose big players like JP Duminy and Quinny. If these things happen before the auction, then it is easier because you can plan better. But then this is how it goes and you cannot help it," Dravis added.
For now, Dravid is pinning his hopes on the younger players in the squad to step up to the challenge ahead. In the same vein Dravid was hopeful of the younger Indian players.
"We do have talented players like Sam Billings and hopefully they can go up and perform. We have guys like Karun, Sanju, Shreyas and (Aditya) Tare, Rishabh. We will also look to strategise better and give the younger players a good opportunity.
"In a format like the IPL, it is also important to rest the players and keep them fresh and we will also look at that and give it our best," he said.
The squad is now bolstered with the presence of all-rounders like Corey Anderson and Angelo Mathews. Two fresh quick bowlers in South Africa's Kagiso Rabada and Pat Cummins of Australia have also strengthened the attack.
Dravid is hopeful that this mix of young and experienced players will come good for the side in the upcoming season. For this he is looking up to the captain of the side Zaheer Khan.
"We have a lot of youngsters in the team and that is where we needed Zaheer, as he brings in that knowledge and sense of calm in the dressing room. You need that when you are playing a tournament like the IPL. Also a lot of the youngsters look up to Zaheer as he is an inspiration," he opined.