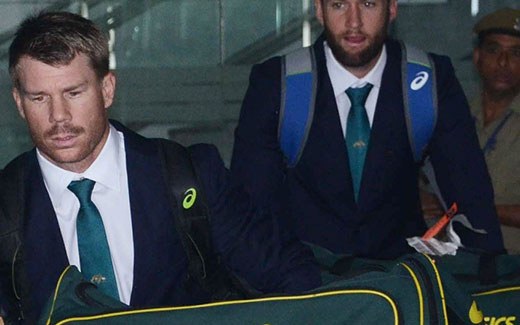 Dharamsala: Ahead of the fourth and final cricket Test against India, starting on Saturday, out-of-touch Australian opening batsman David Warner on Tuesday said he is striking the ball well and is confident that things will soon turn around for him.
Warner, who has managed only 131 runs in six innings so far in the series, said he will not change his technique and will continue with the same.
"I feel fantastic, I couldn't be hitting the ball any better but it's just that the runs aren't coming for me at the moment. That will come, it will turn around," Warner told reporters here.
"I just have to keep being disciplined and make sure that my preparation is still the same -- not change anything, and just go about my business as I do," he added.
Warner said he along with fellow opener Matt Renshaw had given some good starts to the team but stressed on stretching it longer.
"For the team's sake we need to get off to a good start. As a partnership, me and Renners have been getting off to an okay start. None for 50 over here, you need those to be none for 100. We've seen the Indians do it before, batting big and (making) partnerships of 200," Warner said.
"Everyone in world cricket, greats and legends of the game have had stints overseas or at home (where) they've had some form slumps. That's just the game of cricket," he added.