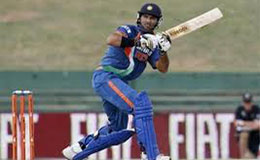 New Delhi: After getting selected for the T20 series against Australia to be held in January, Yuvraj is confident that he would again be able to redeem his international career. As of now, his entire focus is on getting selected for the World T20 at home.

However, Yuvraj Singh is still not comfortable with his 11 off 21 balls in the World T20 final in Mirpur which India lost and that was one of the main reasons for him being sidelined for so long.

"I didn't end it well in 2014. I had a bad run in the final, and that was always at the back of my mind. I had to really work on my fitness, fielding and batting. I have done that in the last year and a half, and hopefully the results will show in the coming seasons," Yuvraj told bcci.tv.
But having tasted success in the domestic season this year, Yuvraj is once again confident of making an impact for his team and his entire focus is on getting selected for the World T20 at home, next year. "We won the tournament in 2007 and we really enjoyed every bit of it. The whole country was thrilled for us. If we can repeat that somehow, after the 2011 World Cup, it would be a huge victory for the guys," said the Punjab batsman.
In the 2015-16 Ranji Trophy, he has 398 runs from seven games with a highest score of 187. In the ongoing Vijay Hazare Trophy (India's domestic one-day tournament) Yuvraj notched up 346 runs in six matches to take Punjab to the knockouts.
"I set myself a few goals in the last couple of years. I achieved some and couldn't achieve a few. So, now I am just going to go with the flow. I am starting off with T20Is and whatever opportunity I get, I am going to give it my all. I just want to do well for the country again in all three departments. I want to win matches for India again," Yuvraj told bcci.tv