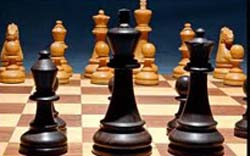 Panjim: Petroleum Sports Promotion Board after a thrashing victory over Maharashtra 'B' team in the ninth round won the 32nd National Team Chess Championship 2012, being played at the Gaspar Clube Hall, Miramar, Panjim.
Petroleum registered a 3.5-0.5 win secured 16 points after 9 rounds. Railways Sports Promotion Board 'A' also finished on the same score, but Petroleum finished first because of higher tie break compared to the Railways. T hey had 28.5 game-points compared to Railways 26.5.
Railway 'A' was in a good position to win the title, but the draw that they played against Tamil Nadu 'B' resulted in them finishing on the second place.
Airport Authority of India (AAI), comprising of D. Harika, Mary Ann Gomes, Kiran Manisha Mohanty and Nimmy George won the title in the women's section. AAI on a higher aggregate of 24 game-points finished first.
Results:

Men: Ninth round: Petroleum (16) bt Maharashtra 'B' (12) 3.5-0.5; Railways 'A' (16) bt Tamil Nadu 'A' (11) 3.5-0.5; Team AICF (11) lost to Railways 'B' (13) 0.5-3.5; Air-India (12) lost to Tamil Nadu 'B' (13) 1.5-2.5; Indian Bank (12) bt Chess is Life (Maharashtra) (10) 2.5-1.5; AAI (12) bt Karnataka Hoysalas (10) 2.5-1.5.
West Bengal (11) bt Bloom Chess Academy (TN) (10) 2.5-1.5; Maharashtra 'A' (12) bt LIC (10) 3.5-0.5; Anand Chess (Gujarat) (9) lost to Haryana (11) 0.5-3.5; Kerala (11) bt Goa 'A' (9) 3-1.
Women: Seventh round: Gujarat (2) lost to AAI (12) 0-4; LIC (7) lost to Air-India (12) 1-3; J&K (0) lost to Petroleum (10) 1-3.
Goa 'B' (8) bt Bihar (6) 2.5-1.5; Tamil Nadu (8) drew with Chess Gurukul (TN) (8) 2-2; Goa 'A' (7) bt Bambolim Chess Club (Goa) (4) 3.5-0.5.
By Indian Sports News