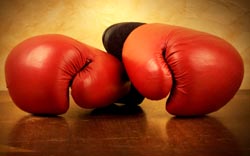 New Delhi:Former world junior champion Mandeep Kaur of Punjab defeated Madhya Pradesh's Gazal Mariya Mathew to reach the quarter-finals of the women's featherweight (52 kilogram) division at the National Youth boxing championship here on Thursday.
Mandeep -- who won gold in the 52 kg category at the 2015 Women's World Junior Boxing Championship in Taiwan -- was adjudged the winner after the referee stopped the contest (RSC) in order to prevent her opponent from suffering more punishment.
In the women's lightweight (60kg) division, R.K. Sinsha of Kerala thrashed Uttar Pradesh's Nahid Ansari 5-0 to enter the quarter-finals.
Also Read :Bengal, Himachal, Jharkhand boxers shine at youth nationals
Maharashtra's R.K. Poonam, Manipur's Jilotama Chanu and Haryana's Jony also dished out dominating shows and reached the quarter-finals after their respective matches had to be stopped by the referee.
In the women's light welterweight (64kg) category, Rajasthan's Lalita, Maharashtra's Venessa R. Arez, Goa's Vaishnavi Prabhu and Nancy Payast of Madhya Pradesh also reached the quarter-finals with RSC decisions.
In the women's light flyweight (48kg), MP's Anjali Sharma and Andhra Pradesh's G. Joythi blanked Arunachal's Muni Leya and Manipur's H. Monika Devi respectively with identical 5-0 scorelines to reach the quarters.
Punjab's Babita Rani edged out Nikita Lohar 3-2, while Uttar Pradesh's Pragati beat Sheetal of Chandigarh to enter the last eight stage.
In the women's flyweight (51kg) division, Mani Singh Gaur of Madhya Pradesh, Punjab's Kamaljeet Kaur and AP's G. Ramya produced scintillating performances to brush aside Rajasthan's Nidhi Dhaka, UP's Anu Singh and Uttarakhand's Amita Soliyal respectively to make it to the quarter-finals.
Assam's Joy Kumari Lama also entered the quarters after the referee stopped her contest against P. Provalika of Telangana.
In the women's bantam weight (54kg), M. Dhivya of Tamil Nadu dumped Maharashtra's Shweta S. Pawar 5-0, while MP's Deepa Kumari eked out a 3-2 win over Punjab's Harpreet Kaur to reach the quarters.
In the women's welterweight (64-69kg) section, UP's Astha Pahwa beat Diksha of Jammu and Kashmir 4-1 to reach the quarters.
Delhi's Muskan Verma, Punjab's Arnpreet Kaur and AP's AK Sridivya also emerged victorious to advance to the final eight.
In the women's middleweight (75kg) event, Sapna of Haryana thrashed Shri Chandan of Andhra Pradesh 5-0, while A. Arunthathi of Tamil Nadu edged out Rajasthan's Nishtha Mittal 3-2 to enter the quarters.
MP's Shruti Yadav and Telangana's G. Niharika also reached the last eight stage.