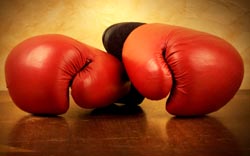 New Delhi: "I am ready to mask and wash the emotional scars with bruises and blood". Getting into the ring in a new avatar as a Pro, L Sarita Devi knows what it takes to conquer the professional world. The Iron Lady from Manipur will start her professional training under Joe Clough, the man behind the success of legendary boxers like Evander Holyfield, Youngest Olympic gold medallist boxer Leo Randolph, world champions Johnny Bumphus & Rocky Lockridge.
Sarita is among the 40 boxers to join the 30-day training camp at the Sports Authority of India National Boxing Academy at Rohtak. The camp, organized by Sporty Boxing Private Limited, gets underway from December 27, Tuesday.
Majority of the 40 boxers, turning up for the camp, are starting their professional career with Sporty Boxing Private Limited. There will be at least 13 national champions, several Olympians and nine Internationals, who have represented India with pride. Clough along with his team of four others will train the boxers. The camp features boxers from Services, various Police departments and other government organizations. All boxers attending the camp have been granted permission by their respective departments to play as professionals and released for the camp.
"Professional boxing is a different ball game. Irrespective of past success, calibre and achievements, a boxer requires to unlearn and learn a lot to succeed as a professional. The difference is like a 100-metre dash and running a marathon," says Clough, the Technical Director at the camp. Clough has also been the head coach of the Mohammad Ali Pro Team