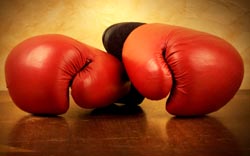 New Delhi: Dronacharya Awardee Anoop Kumar has parted ways with amateur boxing after being the national coach for the Indian women's boxing teams for a decade and a half. Anoop has now joined hands with the Indian Boxing Council, custodians of pro boxing in India.
Anoop starts training with India's 1st Women Pro boxers at the IBC-Sporty Boxing training camp, which starts at the National Boxing Academy run by the Sports Authority of India at Rohtak, from tomorrow. He, along with Joe Clough, will oversee the training of 40 boxers in the thirty-day camp.
During his stint with Amateur Boxing, Anoop has seen the rise of Mary Kom to Olympic glory at the London Olympic Games in 2012 in addition to having produced hugely successful International Boxers like Pinki Jangra, Pooja Rani, Kavita Goyat etc.
The former national coach has been watching the growth of Indian Boxing from close quarters for over the last 15 years. Anoop has always believed that there was never a dearth of talent in India, "but lack of opportunities has not allowed us to achieve what India deserved. Sports Authority of India has contributed to keep boxing and other sports alive in this country. But, I always felt an additional professional and corporate approach is required for any sport to grow. Same applies to the sport of boxing. "I got an opportunity from IBC to help set up their Pro Boxing ranks in a similar manner to what we did 15 years back for Women's amateur boxing in India. It was no doubt a tough call. A series of discussions and