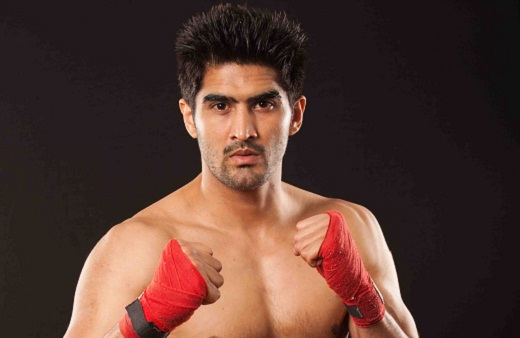 New Delhi: Vijender Singh will face the most experienced and battle-hardened opponent of his professional career when he defends his WBO Asia Pacific Super Middleweight title against Francis Cheka here on Saturday.
Vijender, who defeated Australian Kerry Hope in a gruelling 10-round contest in front of his home crowd at Thyagraj Stadium to take his first professional title here in July, has not faced much of a challenge in the seven pro bouts he has fought so far.
The bout against Cheka, however, is expected to be an altogether different matter.
The Tanzanian, reigning World Boxing Federation (WBF) Super Middleweight champion, is a veteran at the professional level, having won 32 of his 43 bouts. Seventeen of those wins have come by knockout.
The 34-year-old is also the current African champion in the International Boxing Federation (IBF) Super Middleweight division.
Having made his debut as a 17-year-old in the year 2000, Cheka has over 16 years of experience in professional boxing compared to just six months for Vijender.
Vijender however, enjoys the height advantage over the 5'10" African boxer.
At the pre-fight weigh-in on Friday, Vijender was an exact 76 kilograms while Cheka registered 74.7.
Vijender has created several historic milestones for Indian boxing.
The Haryana lad became the first Indian boxer to clinch an Olympic medal when he took bronze at the 2008 Beijing Olympics and the first to win a professional title.
He will get the chance to create another milestone on Saturday evening.
The evening will also feature five undercard bouts featuring upcoming Indian professional boxers.
In the Welterweight (67kg) division, Pardeep Kharera will take on Scott Edwards of Australia while Deepak Tanwar will meet Indonesia's Sutriyono Bara Boys.
In the Lightweight (61kg) category, Kuldeep Dhanda will fight Egy Rozten of Indonesia and Rajesh Kumar will take on Ugandan pugilist Mubaraka Sseguya.
Dharmender Grewal will challenge Abasi Kyobe of Uganda in the Cruiserweight (95kg) category.