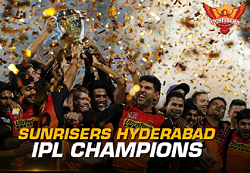 Bangalore: It was a disappointing day for Royal Challengers Bangalore, as despite a fantastic start from Chris Gayle (76 off 38 balls) and Virat Kohli (54 off 35 balls) where they added 114 runs in 10.3 overs for the first wicket, they lost the final and the IPL trophy to Sunrisers Hyderabad infront of their home crowd at M Chinnaswamy Stadium in Bangalore on Sunday.
Earlier, David Warner once again led his team from the front and made 69 off 38 balls to give his team a solid start that led the foundation of a competitive target that Surisers posted against RCB. Shikhar Dhawan (28 off 25 balls) too came out good on the final day and with some useful contributions from Yuvraj Singh (38 off 23 balls) and Ben Cutting (54 off 35 balls), SRH set a target of 208 runs.

Virat Kohli, who took the orange cap for his superb run with the bat, said that it was a nice incentive, but it felt bad to be on the other side of the result. "Why Sunrisers won is because they had a strong bowling attack," he said.

"I knew I was hitting the ball well and I just wanted to keep contributing. I surprised myself in this season by hitting four hundreds. I opened the innings, someone batting at No.3 or No.4 may not have scored much," he added.
"We are proud of the way we played as a team. This was for the people of Bangalore. Even when we had the worst seasons, they were there for us. We scored 200 and lost. It was weird that we still lost by eight runs. Me and AB getting out quickly was a big blow. Had I stayed with AB, we could have finished it. I just want to congratulate the Sunrisers. They deserved to win," said Kohli.

Meanwhile, Bhuvneshwar Kumar who won the purple cap said, "I was not happy the way I started in the first two matches. I credit VVS Laxman for my success. He said 'you're the one who will win matches'. I was mainly looking to develop the death bowling. At the same time, I worked on new-ball bowling."

Warner, the winning captain, said, "It was a fantastic team achievement. To lead this side and the support from the players, me pulling my weight with the runs, it has been a hard journey. It's a team effort. To have the perfect game, we need to gel. For us, the key was team effort all the way."

"Look we knew, we had to get 200. Virat Kohli, what a great leader! I can't take it away from him. He set the benchmark this season. We knew we had to win three straight games. To win in Bangalore, we were underdogs. But, we batted well, bowled well, and fielded well," said Warner.