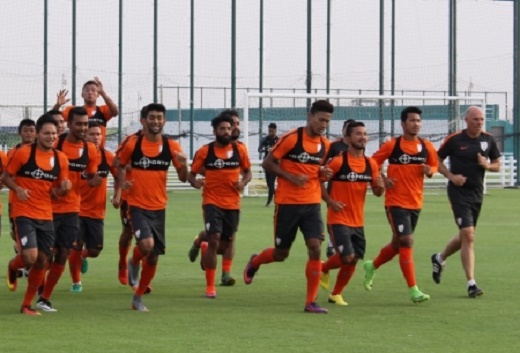 DOHA: Although the points table shows that India are categorically out of the tournament, Stephen Constantine foresees the future amongst these bunch of boys. So much so that he doesn't hesitate to mention that "we're not too far behind than anybody else in Asia."
"These boys have a great future. I can only say that we're not too far behind than anybody else in Asia. We'll keep working and keep looking forward", he maintained.
Stressing on building the 'team for the future,' Constantine had made no less than six changes to the starting lineup from the first matchday (July 19, 2017) in the AFC U23 Qualifiers.

"When you lose the first game, it puts you in a difficult position. By starting with 6-7 different boys, I tried to do give them the experience. It is a great opportunity for them to learn which would prove to be invaluable for them in the future", he stated when www.the-aiff.com caught up with him before taking on Turkmenistan tomorrow (July 23, 2017).

"International Football is quicker, stronger and you need to deal with a lot more pressure here", he mentioned.

He kept on saying that even though he'd look forward nothing less than a win against Turkmenistan, he'll stick to his strategy from providing the players with much-needed exposure.

"It'll eventually help the Indian National Team grow stronger in the future. Off course, we'll look forward to winning the game (against Turkmenistan) but we don't deviate from the long-term project."

He mentioned that 'game is the teacher' and the boys will learn a thing or two from the competitive matches they play at this level.

"This is the most important thing for the boys. The biggest thing for a player is to play. The game is the teacher", Stephen maintained.

India are scheduled to play Turkmenistan in their last match of the AFC U23 Qualifiers at the same venue tomorrow (July 23, 2017) 07:30 PM IST.