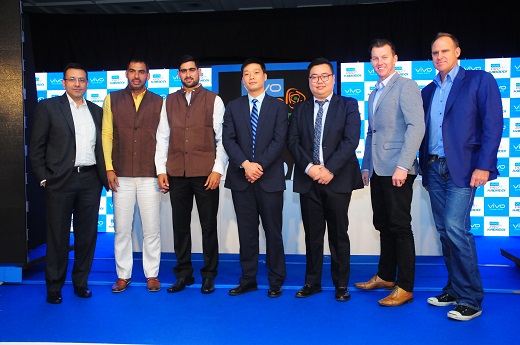 New Delhi: After announcing a mega Rs 300 crore title sponsorship deal for five years with Chinese smartphone manufacturer VIVO, Pro Kabaddi League (PKL) promoters Star India on Monday vowed to take it to every nook and corner of the country, especially to the northeast.
Following the success of newly-crowned I-league champions Aizawl FC, Star India Managing Director Sanjay Gupta said he is confident of finding rich talent in the northeast and hopes to capture the opportunity in the near future.
"This country is about youth, who are not only interested in watching kabaddi but also be a part of it. This whole country is bursting with talent, youngsters who want to participate in many sports, including kabaddi," Gupta told IANS here after revealing that the upcoming fifth season of the league will see the addition of four more teams, taking the number to 12.
"So, keeping all these in mind, this time we are adding four teams but we believe in the future. It's also limited by infrastructure available, there has to be a stadium there in the northeast where the matches can be held."
"I am sure we will find very good talent from the northeast and we should be very focussed on capturing the opportunity in the near future," he added.
Gupta further said that his team is working closely with the Amateur Kabaddi Federation of India (AKFI) to hunt young talent from across the country before the PKL player auction, scheduled for later this month.
"The player auction will be held later this month, once we announce the new teams. We are trying to find young players from across the country and our team has been working on that for a year now."
"The key thing is to find good quality players for the additional teams. Our team has been very focussed in searching new talent along with the kabaddi federation," he said.
Commenting on the partnership with VIVO, Gupta said: "The kabaddi league started three years back and within such a short time, it became a big success, much bigger than what we had anticipated. As we went through those years, we had never found a title sponsor. We were very keen to find somebody who has the same passion and belief as we carried."
"We are lucky and blessed to have VIVO as our partner. We need people who have interest and have a desire to make an impact on the society by taking on something which is working with both the young and old from both urban and rural areas of our country.
"We are talking about five years. In my mind, we are handing our child to VIVO to take care of kabaddi," he added.
Echoing Gupta, VIVO India CEO Kent Cheng said: "We are thrilled to partner with Pro Kabaddi league as the title sponsor. This association is important for us as the Pro Kabaddi League has reached incredible heights and now proudly stands as one of the most successful leagues in India."
Asked about the participation of Pakistani players in the PKL or the Kabaddi World Cup, Gupta said it was the government's call.
"It is difficult for me to say. We had a World Cup last year, whenever we have the next World Cup, we will be guided by the government's policies and whatever we, as a country, feel is the right thing to do. I can neither confirm nor deny their participation."
"Ideally we should be working with all our neighbours but this is not something which we can decide. We will be guided by much larger and bigger principles from the country's point of view," Gupta signed off.
More than 130 games will be played in the fifth season of the Pro Kabaddi League, scheduled to be held in July.