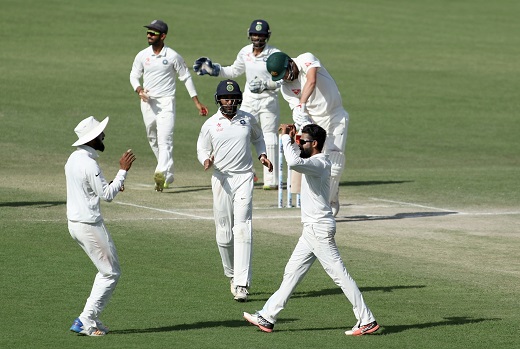 Dharamsala: Indian cricketer Ravindra Jadeja on Monday said he asked Australian wicketkeeper Matthew Wade to have dinner with him once the Aussies lose to India in the fourth Test at the HPCA stadium here.
The duo were involved in intense sledging while Wade was batting. Wade remained 25 not out at stumps as the Aussies crumbled to 137 all out. India require another 87 runs for victory after they were 19/0 after batting for six overs in the second innings.
Jadeja's vital 63 runs and 96-run stand with Wriddhiman Saha for the seventh wicket set India on the course to victory after the end of day three at the HPCA stadium.
"We all know what happens. I just told him, once you lose and are free, we will have dinner together," Jadeja said tongue-in-cheek.
Jadeja, who also took three wickets on the third day, said it's great to be able to contribute to the team's cause with both bat and ball.
"It feels good that I am thought as a responsible player. Personally it's a good feeling. This is my achievement, more than man of the match and man of the series, this feeling of being a valuable player is good."
On his partnership with Saha which helped India get a 32-run lead after they scored 332 in the first essay, Jadeja said: "The second new ball was fairly new. It was good that it happened in the very first ball as then it's just out of your way and there's no disturbance. I was sure that there wasn't any edge, I just told Saha that it's a bit tough situation but we will have to play it out."
"The lead was big enough with the pitch having uneven bounce. The ball was swinging and deviating after hitting the cracks. If you noticed, they had lost three wickets before the deficit was erased, so it was crucial. We were not on the backfoot and the bowlers could bowl with a free mind."