Shiv Kapur of India emerged triumphant at the US$500,000 Royal Cup after he closed the tournament with a four-under-par 67 to finish 14-under-par 270.
Sunday was billed as a duel between Kapur and Thailand's Prom Meesawat as the pair emerged from the pack after round three. At the start of the final round, Prom was two shots ahead of Kapur, who was four shots ahead of the rest of the field.
However, Prom lost his advantage early at the second hole of the Phoenix Gold Golf and Country Club. After pulling to the left, Prom had to settle for a bogey at the par-three hole, while Kapur knocked in a birdie.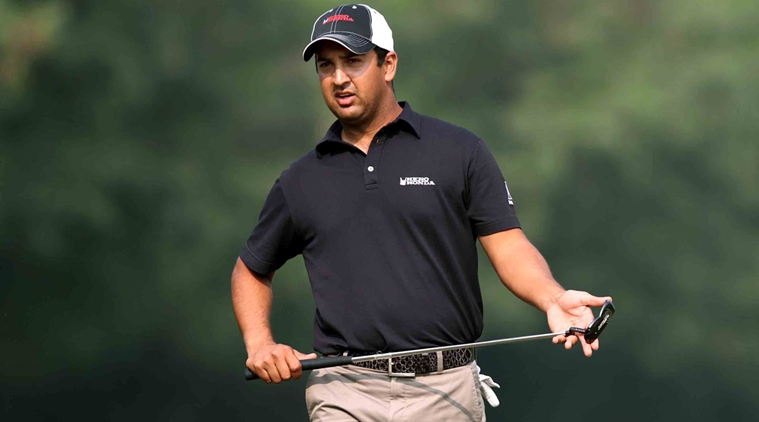 Prom's further bogeys on the fifth and ninth handed Kapur the lead. Although, the 33-year-old Thai managed to shake off his nerves after the turn and it was all square again following consecutive birdies on the 11th and 12th. Kapur did himself no favours when he bogeyed the 13th and 14th and in the process, handed Prom a two-shot lead again.
Kapur bounced back remarkably with two consecutive birdies of his own and it was back to a deadlock. With Prom bogeying the 17th, the door was left open for Shiv to win the Royal Cup, and he did.

Although, Prom nearly forced a playoff as he narrowly missed a birdie putt at the last hole of the tournament. He finished round four with a 70.
Gaganjeet Bhullar of India carded a 66 to cement third place after a late charge. Thai legend Prayad Marksaeng and Chinese Taipei's Chan Shih-chang, who won on the same golf course last year, shared fourth place.
Player Interviews:
Shiv Kapur (Ind) - Fourth Round 67 (-4), Total 270 (-14)
It was a see-saw battle indeed. I had to come out fighting straight out of the blocks. I made two birdies in my first three holes and that reversed Prom's advantage. It doesn't always go to plan, but luckily, I started well and he made a bogey on the second hole and before I knew it, I was leading the tournament.
On the ninth, I made a good par, which was pivotal. I had a great putt from off the green on 10th. At that stage, I thought I was in control. I hit a poor drive on the 11th and got away with par. He made good birdies on 11th and 12th and regained the lead.
I felt that I made a bad swing on 13th and that carried over to the next hole. After the two bogeys, I was obviously disappointed as a two-shot lead turned into a two-shot deficit.
Standing on the 15th tee, I told my caddie that we're not going to go down without a fight. Let's make a birdie here and see what happens or at least give myself a chance going into the last two holes.
The birdie there (on the 15th) got me back into the tournament. I had a good up and down on the 17th and Prom kind of handed me the tournament as he three putted there. At the 18th, I thought he was a bit unluckily. Prom is a steely competitor and I'm lucky to come out on top.
I think the tournament has a great format. It has a lot of history and I'm glad to join the illustrious list of winners.
A lot of people were taking the week off. In hindsight, sometimes, good things happen. If I had made the EurAsia Cup team, I wouldn't be here. It's always great to win three times on Tour during the season. On top of that, it's a special feeling to have my daughter here on the 18th green celebrating my win.
If 2018 can come anywhere close, I'll be happy. I'll be building on my success. After three weeks of rest and relaxation, I'll be back competing on the Asian Tour.
Prom Meesawat (Tha) – Fourth Round 70 (-1), Total 271 (-13)
It was a good battle with Shiv. He was playing well and I simply made more mistakes. He deserved to win.
It was disappointing for sure. I thought I made the putt for birdie to force a playoff at the 18th. Anyway, it was a good tournament for me. It is always good to end the year with a second-place finish.
For next year, I'll continue to work hard and try to win a tournament. I'll take two weeks off before starting on the new season.
Gaganjeet Bhullar (Ind) – Fourth Round 66 (-5), Total 273 (-11)
I had a good tournament. I didn't prepare much as I came straight from my wedding. Today was particularly good. I holed a lot of good putts and gave myself good opportunities. I played well but obviously these guys (Kapur and Prom) played better than me.
It is good playing this golf course again. I had good memories from last year and I'm glad I came back and played well this week.
2017 is one of the years to remember. The Macao Open was special as it was a wire-to-wire victory and my second win there. It'll be a tournament that is always close to my heart. This week was great, of course.
Prayad Marksaeng (Tha) – Fourth Round 65 (-6), Total 275 (-9)
Today I played well and hit good drives. My putting is the key factor for my good round today. On the first three days I spent much time at driving range but today I didn't. I just worked on my putting and chipping to save my energy. I had a sore back a little but everything is going well.
The sixth hole was my highlight. I enjoyed playing this hole where players aim for eagle or at least birdie. I managed to get birdie.
It's been a good season for me in 2017 and really great start at SMBC Singapore Open. I also played well in Japan Golf Tour and Japan Senior Tour.
Next year I will continue playing in Asian Tour, Japan Golf Tour and Japan Senior Tour and some tournaments in All Thailand Tour. I am in a good shape and healthy.
Chan Shih-chang (Tpe) – Fourth Round 65 (-6), Total 275 (-9)
I felt really good about this tournament. Overall, I didn't play to my expectations in 2017. When I heard about the opportunity to come back to play at this golf course (where he won the 2016 King's Cup), I jumped at it. I felt that I only played one bad round, that is round two. I putted badly and made four three-putts.
I felt that my game was on point yesterday but today, I enjoyed a bit of luck like the chip-in eagle at the sixth. I felt like I was on tournament-winning form.