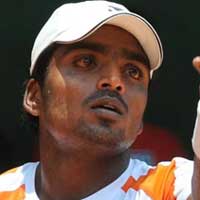 Kolkata: Reigning national champion V.M. Ranjeet hit three back-to-back aces to down N.V. Prasanth and clinch the Premjit Lall Invitational tournament men's singles title at the Jaidip Mukherjea tennis academy here on Saturday.
Ranjeet won in straight sets (6-3, 6-4) after breaking Prasanth in the second and sixth games of the first set. He broke his opponent in the first and third games of the second set to ratchet up a convincing triumph.
Prasanth, who beat favourite Vishnu Vardhan in the semis, was found wanting against Ranjeet who continued his good form after beating top-seed Balaji Sriram in the quarter-finals and V.S. Kaza in the semis.
"I just went with the flow and hit those down the court. It went well," Ranjeet later told IANS when asked about the hat-trick of aces towards the end.
With 13 times Grand Slam doubles winner and former coach of Roger Federer, Tony Roche in attendance, Ranjeet said he could not wait to know what the Australian felt about his game.
"I will talk to him after some time and more than what he liked, I would like to know what are the areas he feels I lacked and can improve. It's priceless playing in front of such a legend," he said.
In the men's doubles summit clash, Jeevan Nedunchezhiyan -- ranked within the top 100 in the ATP doubles list -- and Prasanth prevailed 6-4, 4-6, 10,7 in a thrilling three-setter over Sanam Singh and Kaza.