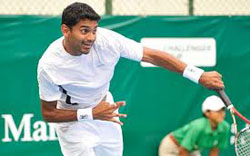 Surbiton: Fourth seeded Indian pair of Purav Raja and Divij Sharan defeated Great Britain pair of Ken Skupski and Neal Skupski 6-4, 7-6 (3) in the doubles final of the Euro 42,500 ATP Challenger at grass courts of Surbiton (England).

With this title win, the Indian pair earned Euro 2650 and 80 ATP points.

Shivika in doubles final

Third seed Sri Vaishnavi Peddy Reddi stumbled in the quarter-finals as she lost to eighth seed Njuki Brenda of Sweden 2-6, 6-3, 6-3 in the $ 10,000 ITF Women's Tennis Tournament at Sharm El Sheikh (Egypt) .

Shivika Burman of India, partnering Varunya Wongteanchai of Thailand, moved into doubles final after beating Nefedova Anastasia Evgenyevna of Russia and Petra Januskova of Canada 7-5, 6-4 in one hourand 25 minutes.
In the second doubles semi-final, Sabrina Bamburac of Great Britain and Njuki Brenda of Sweden ousted Lalita Devarakonda of India and Zhau Qianqian of China 6-4, 6-2 in one hour and 10 minutes.