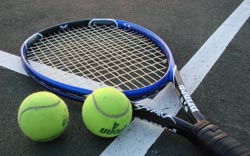 New Delhi: The second day of the 35th PSPB Inter Unit Tennis Tournament hosted by EIL and being played at the RK Khanna Sports Complex witnessed some exciting matches in the Team Championships.
In the Semi Final clash of the Men's Team Championships between ONGC and IOCL, Yuki Bhambri of ONGC was impressive in his variation of speed of play to overcome Ramkumar Ramanathan of IOCL in a clinical 6-2, 6-1 win. But the match of the day was when playing partner Vishnu Vardhan came back from a one set deficit to beat Divij Sharan of IOCL 3-6, 7-6, 7-6. Big serving Vishnu faced stiff resistance from former doubles partner and left handed Divij but used his serve to advantage in the final set tie breaker to close out a thrilling win after 2hrs and 40 minutes of play. ONGC thus won 2-0.
In the other semi finals GAIL was too powerful for OIL and won 2-0 with both their players Saketh Myneni and Vijay Sunder Prashant winning their matches comfortably.

Interesting matches were witnessed in the Women's team event when ONGC played GAIL. Representing ONGC, top Indian player Ankita Raina lost her first set to India no 2 player Prerna Bhambri of GAIL 5-7. Prerna however, then made too many unforced errors and with Ankita stepping up her game, lost her rhythm and the next 2 sets quite quickly. Ankita thus won 5-7, 6-1. 6-0.

In the second match between India's second ranked junior player Karman Kaur Thandee of ONGC and Sneha Devi Reddy of GAIL, Sneha won the first set 6-3 but lost the next one 4-6. She however came back strongly to win the third set 6-4 to level the contest 1 -1.

At the time of going to press, the deciding doubles rubber was being played under spotlight to decide which team would win their round robin contest, the format being used to determine the women's team event.

The finals of the Men's Team Championships to be played today at 9 am will have ONGC playing against GAIL and the matches are certain to be a spectator's delight with Yuki Bhambri, Saketh Myneni, Vishnu Vardhan and Vijay Sunder Prashant all likely to be playing.