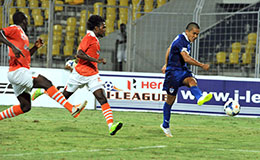 When All India Football Federation (AIFF) came up with the idea of having franchise-based league, it was one of the best things which was going to happen for the Indian football after 2000's. In association with Reliance, they stared the league named Indian Super League (ISL). It has gained a huge popularity with fans flocking into the stadiums for each match. But ISL's popularity hasn't in reality added to the game's popularity as even after the two seasons of ISL, people are not ready to follow and watch the professional league of India -- I-League. So what should we do to move forward?


THE PRESENT CONDITION

India's success on the world level will depend on the level of their national league and its structure not on the franchise-based league which lasts just for two months. The purpose of ISL is to attract crowd. Some of the advantages of having ISL is that we are able expose the players to world-class coaches and training methods. The result of those are there to see as players like Remeo, Jeje , Sandesh, Jighan etc are performing well at both club and national levels. But getting training and playing with world-class players and coaches just for two months won't help them to improve much. So obviously, some meticulous planning needs to be done to get the maximum out of the ISL.

THE NEXT LEVEL

One of the ideas is to merge both I- League and ISL. It is easier said than done because there are a lot of issues involved in this as again as the primary thing of attracting crowd will be problem until we are going to bring in some top players across world to play in here. Since ISL is for two months, we are able to bring names, but will it possible for a longer period? The answer to this question will be in the hands of the owners of the teams. Teams like East Bengal, Mohan Bagan, Bengaluru FC are already expressing interests in the merger. There is no doubt the owners are ready to take the Indian football to the next level.

THE FUTURE OF INDIAN FOOTBALL

If the merger becomes a possibility, we will see some top teams playing all throughout the year and fans will finally start to follow our league like they are following EPL, La Liga etc. Also our team will get a massive boost as players could train in places like Atlético Madrid, etc, as most of the ISL teams have link up with European clubs. The clubs will start to promote grass-root programmes more seriously as it will important for them in the longer run. Ultimately all these are going to benefit the Indian players which will help us to realize our dream of playing in FIFA World Cup.