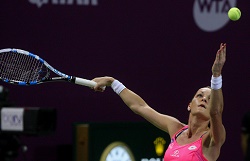 Doha: The bloodbath at the WTA Qatar Total Open would have been acute and colossal, but for the timely intervention of third seed Agnieszka Radwanska.
The Polish player nipped in bud Romanian Monica Niculescu's designs with her 7-5, 6-1 victory at the Centre Court on Wednesday.
Unfortunately, the rest were brazenly pounded into submission by minnows.
Czech Petra Kvitova, the fifth seed, was ostensibly done in by 18-year old Latvian Jelena Ostapenko 5-7, 6-2, 6-1 on the Centre Court.
Reports of such uncanny demolitions continued till the very end of the evening with the seeds seen hiding for cover across the length and breadth of the Khalifa International Tennis & Squash Complex.
Caroline Wozniacki, the 13th seed Danish player was the worst hit. She fell prey to Russian qualifier Elena Vesnina 7-5, 5-7, 6-3 on Court No. 1.
Amidst all this, the Chinese aggression was by far the highlight of the evening. Saisai Zheng, who had demolished Australian Open Champion and first seed Angelique Kerber on Tuesday, continued to march ahead. On Wednesday, she brushed aside Canadian wild card Eugenie Bouchard 7-6 (1), 6-1.
Centre Court massacre
It was Kvitova's head that rolled first. The eighth seed Czech was pitted against little-known Ostapenko. Had it not been for her experience, the Czech would have been crucified much earlier.
Young Ostapenko was moving on to the courts well as against Kvitova, who was banking on her strength and a baseline game, which was soon ran out of ammo.
Even though Ostapenko was using up too much power too early in the game, she had her reserves well stocked.
The sun was going down and with it ominous breeze had picked up momentum. There may have been a bit of a bite in it as the weatherman had predicted, or was it the lull before the storm; whatever it was it certainly didn't help Kvitova.
Though the Czech had won the first set 7-5, thanks to a line call at the crucial juncture in the 12th game that came her way, her game was turning abysmal. It plummeted even as the evening progressed.
Ostapenko, barring that adrenaline rush on one occasion, was in complete control and wrapped up the next set with a bit of an effort (6-2).
By now, it was apparent that Kvitova was finding it hard to focus under the demanding circumstances.
Kvitova was broken in the very first game of the third set. But unlike the first set, lady luck failed to smile on her this time around. She was again broken in the third and the purple-coloured WTA scoreboard read 3-0 in favour of Ostapenko.
The Latvian was forced to endure a break, but she quickly regrouped and broke back to lead 4-1. A few anxious moments and a break later Ostapenko was ostensibly sitting pretty with a 7-5, 6-2, 6-1 win.
"I felt a little bit tired. In the middle of the second set, I had a game where I lost my serve, and I think that was kind of like the breaking point that I lost that game. I was little bit suffering with the wind," said Kvitova.
Radwanska offers a ray of hope
Radwanska, the third seed, too had tough time against Niculescu, whose serve and volley game or better put 'serve slice game' was ripping her apart.
Dressed in black, shy the light coloured frilled skirt, her slices would have put a Ninja Warrior to shame. On Wednesday, they certainly put Radwanska into trouble. At least in the first set, that was stretched into the 12th game with breaks and counter breaks littered all across the court.
And on more occasions than one, it seemed that Niculescu would walk away with another upset on the circuit, no wonder the first set was stretched. Fortunately, Radwanska bagged it 7-5 following those frustrating moments that saw her kick the ball and throw her racquet only to earn the wrath of the referee.
The second set proved to be an easy affair for her as Radwanska retained all her serves and broke her opponent in the 3rd and 5th game to win 6-1.
"Well, for sure, not an easy match," said Radwanska.
"Very tricky opponent. As you see on the court, a lot of up and downs. Very hard conditions as well. I'm just very happy I got through, especially that I lost the last match."
"Good comeback for me in that first set. Just made it point by point. Long rallies. A lot of weird shots along the way. I'm just very happy to win that match in two sets." She added.
Results:
SINGLES - THIRD ROUND
[4] Garbiñe Muguruza (ESP) d Timea Babos (HUN) | 6 - 2 | 7 - 5 |
Andrea Petkovic (GER) d Coco Vandeweghe (USA) | 6 - 3 | 6 - 4 |
[3] Agnieszka Radwanska (POL) d Monica Niculescu (ROU) | 7 - 5 | 6 - 1 |
[8] Carla Suárez Navarro (ESP) d [11] Timea Bacsinszky (SUI) | 6 - 2 | 6 - 2 |
[Q] Elena Vesnina (RUS) d [13] Caroline Wozniacki (DEN) | 7 - 5 | 5 - 7 | 6 - 3 |
Jelena Ostapenko (LAT) d [5] Petra Kvitova (CZE) | 5 - 7 | 6 - 2 | 6 - 1 |
Saisai Zheng (CHN) d [WC] Eugenie Bouchard (CAN) | 7 - 6 (1) | 6 - 1 |
DOUBLES - SECOND ROUND
[6] T Babos / J Goerges (HUN/GER) d [WC] P Kvitova / B Strycova (CZE/CZE) | 0 - 0 |
G Dabrowski / M Martínez Sánchez (CAN/ESP) d [7] R Atawo / A Spears (USA/USA) | 7 - 6 (4) | 6 - 1 |
K Bondarenko / O Savchuk (UKR/UKR) d [3] C Garcia / K Mladenovic (FRA/FRA) | 6 - 4 | 6 - 4 |
[4] H Chan / Y Chan (TPE/TPE) d C Chan / K Marosi (TPE/HUN) | 6 - 2 | 6 - 1 |