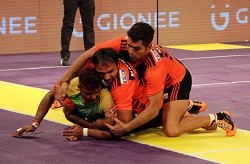 Jaipur: It was a case of so close yet so far for U Mumba as they suffered a 34-36 loss to defending champions Patna Pirates despite equalising the score with barely a minute to spare. The Mumbai outfit continues to sit on 5th place in the league table with 6 points from 3 games, a bonus point with the loss of this game having lost by less than 7 points.
It was a quick and breezy start for U Mumba with star raider Rishank Devadiga securing 3 points in his first two raids and setting the tone for the match. But the men in orange and black soon found themselves left with three men on the mat after a string of poor mistakes by the raiders. It should have been simple for Patna raiders Pardeep Narwal and Rajesh Mondal with three U Mumba defenders on the mat but the two main corners in Jeeva Kumar and Surjeet pulled off something amazing, effecting four super tackles to stave off the all-out.
Rakesh Kumar effected his 2nd super tackle of the season, pinning down Pardeep Narwal. Sunil also managed to effect a super tackle against his former teammate while Jeeva and Surjeet secured extra points for U Mumba with super tackles of Rajesh Mondal and Pardeep once again. With the score at 12-9, Pardeep stepped in to raid again, this time getting the all-out with Jeeva and Surjeet unable to super tackle again, helping Patna gain a lead of 2 points with 3 minutes to go till half time. Captain Anup Kumar secured a point for his team and the game went into half time with the score 14-16 in favour of Patna.
The second half saw Suresu Kumar come on for Vikash Kumar to try and bring a change in the raiding scenario for U Mumba. Unfortunately, while the defence was working in tandem, all except for Rishank were unable to return with points and soon U Mumba were all out for the second time in the 28th time with the score 17-27. This shook the team and both Rishank and Anup decided to take matters into their own hands. A brilliant swivel and turn by Anup saw him touch both former teammate Fazel Atrachali and Bajirao Hodage in one raid despite seemingly pinned down. A super raid by Pardeep was nullified 2 minutes later by a Rishank super raid that saw him eliminate both Bajirao, Fazel and Rajesh Mondal in one swift move, moving the score to 25-31.
A technical point and a bonus point later, U Mumba were closing the lead to Patna with only two men left in the Patna den. Two calm raids by Captain Anup saw a quick substitution by the Patna camp, bringing on Mahesh Goud to try and hold off the all out. That worked in favour for U Mumba who effected the all out in the 38th minute and tied the score 33 all. A bonus point from Rishank saw U Mumba take the lead but a successful raid by Pardeep in the end saw Patna run out winners with the scoreline 36-34.
Coach Bhaskaran was extremely complimentary of Rishank's performance that saw him score 11 points including 7 touch points but conceded that such nail biters could go either way. "We fought back well today and it was because of Rishank getting back to form which is a great sign for us. Our defence also came together today but in games like these that go to the last minute, things can go either way. I'm not disappointed with the boys but proud of how they came back."
U Mumba next take on Dabang Delhi on the 1st of July at the Sawai Mansingh Stadium in Jaipur.